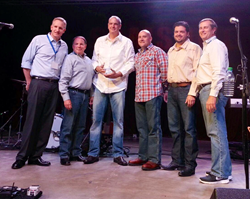 Samsung is a leading innovator in technology solutions and is a valued manufacturer to us," says Hunter McCarty, chief operating officer, RJ Young. "We are pleased to be awarded Dealer of the Year by Samsung and look forward to building upon our successes
Nashville, Tennessee (PRWEB) November 06, 2014
RJ Young Company announced it was named 2014 Dealer of the Year by Samsung's Enterprise Business Division at the Samsung Dealer Conference in Dallas September 11, 2014.
RJ Young was awarded the 2014 Dealer of the Year for it's on-going training and promotion of business solutions and multifunctional printing equipment that more than doubled year-over-year sales with Samsung, making them the top-grossing Samsung dealer and dealer achieving the highest percentage of quota.
"We are proud to have RJ Young earn the recognition of being named our Top Dealer of the Year," said Matt Smith, Vice President of Sales and Marketing, Printing Solutions for Samsung's Enterprise Business Division. "Samsung is a dealer-centric, dealer-loyal organization dedicated to supporting successful channel partnerships and we're glad to recognize RJ Young's integral part in taking Samsung's business solutions and multifunctional machines to market."
"Samsung is a leading innovator in technology solutions and is a valued manufacturer to us," says Hunter McCarty, chief operating officer, RJ Young. "We are pleased to be awarded Dealer of the Year by Samsung and look forward to building upon our successes and fueling more growth as we continue to expand our customer base."
About RJ Young
RJ Young is the largest independent office equipment dealer in the Southeast, specializing in document management solutions, managed print services, IT services, office imaging and 3D printing equipment. Headquartered in Nashville, Tennessee, RJ Young has been in business for nearly 60 years and has over 500 employees in twenty-one sales and service locations across seven states. Under the corporate tagline "Your productivity is our mission", RJ Young helps modern professionals become more successful in their businesses with solutions to securely manage paper and digital information, maintain vital information technology systems and empower business with leading printing technologies. For further information, please visit http://www.rjyoung.com.