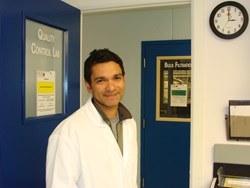 Missoula, Montana (PRWEB) September 13, 2013
Rocky Mountain Biologicals (RMBIO), http://www.rmbio.com, announced today that Suresh Daniel, CEO of RMBIO is scheduled to participate in the 2013 Economic Development Conference. Daniels will moderate the discussion, "Chemistry Under the BigSky: The Growth of Biochemicals in MT". Panel members scheduled to participate include senior leaders from Blue Marble Biotechnology, River Top Renewables, Sapphire Energy and Dow.
The Economic Summit is sponsored by Senator Max Baucus and is hosted by Montana Tech in Butte. There are many keynote speakers this year including Google Executive Chairman Eric Schmidt, Facebook's Sheryl Sandberg, Oracle's Safra Catz, founder of FedEx Fred Smith and, Ryan Lance, CEO of ConocoPhillips.
The conference is designed to provide network and business opportunities for Montana companies. This is achieved by providing a forum for interaction and networking among some of the world's leading companies with Montana entrepreneurs and businesses.
Daniel stated, "We appreciate the opportunity to participate in the conference, and for the opportunities to network with companies that are potential partners and investors of RMBIO. We have always found that the hardest step in acquiring a new multi-national customer is simply getting them to come and visit our facility in Missoula. Once they come, without exception, our employees, the quality of our products, and our value proposition win them over. I am sure we are no different than many Montana-based businesses in this regard. In this case, the conference has brought many businesses that we aim to partner with to our State. JJ Adams and the entire staff of Senator Baucus deserve a lot of credit for bringing such a high quality event to Montana."
Current and prospective customers of RMBIO including Amgen, Johnson & Johnson Development Corporation, Merck, and Pfizer are all attendees and sponsors of the conference.
RMBIO is a manufacturer of bovine, porcine, equine and other custom protein products used in the Life Sciences industry. The company uses proprietary processing technology to fractionate animal blood into the growth factors required to make cell culture media. RMBIO was founded in 2004 and operates a 20,000 square foot state-of-the-art production facility in Missoula, Montana.
Daniels and the panel will be presenting on Monday, September 16, 2013 in the Mining and Geology building on the campus of Montana Tech from 1-2:15. Additional information about the conference can be found at http://www.montanajobssummit.com.