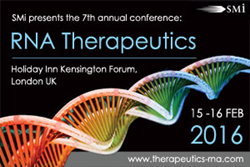 "Overall very good organisation/speakers" – GSK, Previous Attendee
London, England (PRWEB UK) 22 October 2015
Molecular pathology experts Advanced Cell Diagnostics, recently announced the release of its next version RNAscope® in situ hybridization (ISH) assay – RNAscope 2.5.
Building on the ground-breaking advances introduced in RNAscope 2.0, which gained quick industry recognition, the 2.5 assay has shown positive results in early access programs and has been refined to enable rapid, accurate assessment of tissue-based biomarker expression across the full spectrum of clinical formalin-fixed paraffin-embedded (FFPE) tissue samples at unprecedented levels of consistency and reproducibility without the need for lengthy rounds of assay optimization. *Source
Hear more from Advanced Cell Diagnostics at SMi's 7th annual show on RNA Therapeutics when it returns to London next year on 15th and 16th February 2016.
Entitled: Single copy detection for specific transcripts in the tissue, the keynote address presented by European Senior Director, Dr Kai Williams, will discuss tissue specific assessment of efficacy and validation of rapid biomarker development and RNAi approaches, as well as analyse drug safety in tissue samples. Insight into transfer from cell culture to animal models to clinical, will also be given.
Bringing in voices from some of the most senior industry thought leaders in drug discovery and science, the annual congress will look to provide attendees with the latest updates on new evolutions in nanotechnology and targeted delivery systems. With a focus on messenger RNA-based Therapeutics and anti-sense oligonucleotide-based drugs, the programme will hone in on major key developments and tackle the challenge of transporting RNA to target sites outside the liver.
Day 1 will address topics on combinatory approaches to boost immune response, regulation of nano therapeutics, nanoparticles, commercial interests and key considerations for clinical success, while Day 2 explores the freedom to operate, mitigating risks, industry collaboration, small activating RNA and novel mRNA therapeutics.
Other featured speakers include:

Ryszard Kole, Distinguished Scientist, Sarepta Therapeutics
Nagy Habib, Professor of Surgery, Chairman & Co-founder Imperial College London, MiNA Therapeutics
Punit Seth, Executive Director, Isis Pharmaceuticals
Mustafa Diken, Deputy Vice President, Immunotherapies and Preclinical Research, BioNTech AG
Christian Schetter, Chief Executive Office and Managing Director, Rigontech GmbH
Cristianne Rijcken, CSO, Cristal Therapeutics
Heinrich Haas, Vice President RNA Formulation & Drug Delivery, BioNTech AG
Brian Kelly, Associate, Covington & Burling LLP
Further details and a brochure are available online at http://www.therapeutics-rna.com
For those looking to register, there is currently a £400 early bird saving available which expires on 30th October.
RNA Therapeutics
Sustainable production of targeted delivery and mRNA
15 – 16 February 2016
Holiday Inn Kensington Forum, London UK
http://www.therapeutics-rna.com
Sponsored by Advanced Cell Diagnostics
--END—
About SMi Group:
Established since 1993, the SMi Group is a global event-production company that specializes in Business-to-Business Conferences, Workshops, Masterclasses and online Communities. We create and deliver events in the Defence, Security, Energy, Utilities, Finance and Pharmaceutical industries. We pride ourselves on having access to the world's most forward thinking opinion leaders and visionaries, allowing us to bring our communities together to Learn, Engage, Share and Network. More information can be found at http://www.smi-online.co.uk
About Advanced Cell Daignostics:
Advanced Cell Diagnostics, Inc. (ACD) is a leader in the emerging field of molecular pathology, developing cell- and tissue-based diagnostic tests for personalized medicine. Based in the heart of Silicon Valley, ACD was founded and managed by experienced entrepreneurs in the life science industry. ACD's products and services are based on its proprietary RNAscope® Technology, the first multiplex fluorescent and chromogenic in situ hybridization platform capable of detecting and quantifying RNA biomarkers in situ at single molecule sensitivity. The company's technology overcomes critical hurdles in the identification and alidation of biomarkers for companion diagnostics. ACD's RNAscope® platform provides a new way of localizing and measuring RNA in situ with exceptional levels of sensitivity, specificity, and the ability to multiplex. Turnaround time for a new assay is reduced to three weeks. http://www.acdbio.com