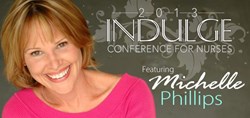 "We are thrilled to have Michelle speak at our annual conference. There is no doubt that the nurses will love her motivational topics and beauty advice." - Veronica Castellana, Owner, RN MARKET LLC
(PRWEB) September 03, 2013
Celebrity make-up artist, self-esteem coach, and best-selling author, Michelle Phillips, has committed to speak at RN MARKET's 2013 Indulge Conference for Nurses. Since the Indulge Conference attendee demographic will comprise mostly of female nurses who will be or are currently practicing as Advanced Legal Nurse Consultants (ALNCs), her brand of motivation mixed with beauty secrets and self-improvement will be a perfect match.
Scheduled for October 24-25, 2013, the Indulge Conference brings together many of the world's most successful and in-demand nurses who practice in the field of Legal Nurse Consulting. Using their medical expertise to analyze and interpret medical records in legal cases, these Advanced Legal Nurse Consultants (ALNCs) have the opportunity to network with other colleagues at the conference and have a great time while keeping up-to-date with new information in the Legal Nurse industry.
Michelle brings an impressive resume to the podium with her many television appearances, her bestselling book "The Beauty Blueprint," her regular Hay House Radio program, her long list of public appearances, and her extensive catalog of blog postings. She has made appearances on CBS, NBC, WE, TLC, the Discovery Channel, HGTV, Home Shopping Network, Better.tv, Daytime, Gal Time, Hay House Radio, She Knows, The Daily Buzz, and TDL. By combining her years of experience as a top Celebrity Makeup Artist and Stylist with her powerful self-esteem tools, Michelle has created a unique process that is transforming women across the globe.
While many graduates of the LNC STAT course by RN MARKET have found professional success in the field of Legal Nurse Consulting, there is always room for more inspiration in their personal lives. In addition to providing continuing education to Advanced Legal Nurse Consultant (ALNC), one of the main goals of RN Market's Indulge Conference is to help soon-to-be and currently-practicing Advanced Legal Nurse Consultants (ALNCs) expand their horizons in their personal lives. After the vital and dedicated service that the nurses have provided, some pampering and indulgence are definitely in order.
For more information about the Indulge Conference for Nurses, visit http://www.lncstat.com/indulgeconferencefornurses.htm.