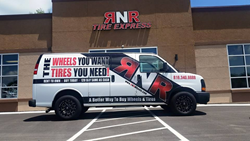 We're excited to have our first location open in Kansas City. We think the community will embrace this brand.
Tampa, Florida (PRWEB) June 28, 2015
Kansas City has their first RNR Tire Express and Custom Wheels franchise location. New franchisees, Jason and Howard Barton, are a father-son team and new to the wheel and tire industry. Coming from a construction background, with some retail experience as well, these two decided to try something new in a field they both were interested. They've got a long love of cars, and they're looking forward to getting to know this industry better. Jason will be hands on in operating their franchise.
The Bartons' experience with RNR so far has been "first class," according to Jason. "From talking to other franchisees to dealing with corporate, the whole organization has been really supportive. They've really bent over backward to help us get started. We love the attitude at RNR, and we're looking forward to being a part of this team," he added. RNR started franchising in 2003, and currently has 13 franchisees, 60 franchise locations, 10 corporate-owned locations and stores scattered across 20 states (with several more under construction).
This is the first location for Jason and Howard with plans to expand throughout the Kansas City metro area. "Right now, we're trying to focus on this first location, and we're learning everything we can to make it successful; and if all goes well, we'd love to open more RNR locations."
Larry Sutton, Founder and President of RNR Custom Wheels and Tire Express had this to say: "We're excited to be open in the Kansas City area, and Howard and Jason are going to do a great job with us! They're hard workers, they're enthusiastic and they're going to do really well with their location. We think Kansas City will embrace this brand, and Howard and Jason are the perfect people to introduce the RNR way to the area."
The RNR Experience
RNR customers are provided a program that allows them to pay for the custom wheels and tires that they want in easy weekly, bi-weekly or monthly installments with no credit hassles. In addition, customers are offered the lowest cash prices on wheels or tires and have a huge selection of both new and previously rented merchandise. RNR carries just about every major brand in the custom wheel and tire industry, including: Dub, KMC, Lexani, Michelin, Goodyear and many more. For Information on RNR, contact our Corporate Offices at 813.977.9800.
About RNR Franchise
Headquarted in Tampa, Florida, RNR Custom Wheel and Tire Express operates tires and wheels stores and has become a dominant force in the wheel and tire industry by offering retail, rent-to-own and other payment options to those who want to own custom wheels and quality tires. Our innovative approach combines 40+ years of rent-to-own experience with extensive knowledge of the wheel and tire industry. RNR currently operates franchise locations in 21 states and has eight affiliate stores in Tampa, Florida. For additional information on franchising, contact John Armatas at 855.844.8377 or visit our franchise website at http://www.rnrfranchise.com.