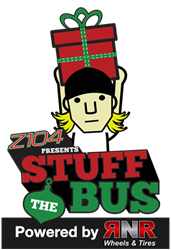 We wanted to support our local military efforts several years ago through the USMC Toys for Tots campaign at Christmas
Norfolk, VA (PRWEB) November 19, 2014
When Ron Russell, operator of five RNR locations in the Norfolk, Virginia, area heard about "Stuff the Bus," he was intrigued. "We wanted to support our local military efforts several years ago through the USMC Toys for Tots campaign at Christmas," said Russell, "and we have advertised for years on Entercom Radio in the Norfolk markets, including Z104. Z104's most popular DJ, Shaggy, has done endorsements for us, as well, so getting involved with "Stuff the Bus" was a natural fit for us."
"Stuff the Bus" is an annual charity event sponsored by radio station Z104 and their partner, U.S. Marine Corp Reserve: Toys for Tots Program, that sends a bus to five different locations over five days to collect toys for kids that otherwise might not have a Christmas. Z104 DJ, Shaggy, created the event nine years ago, and every year, he commits to living on the bus for five days and personally collecting the toys donated at each location in the Hampton Roads area of Virginia. Citing his father as inspiration for the event, Shaggy says, "If you're sitting there thinking, 'I know who these people are,' you are sadly mistaken…so, don't immediately just put people in a box because that's just not what it is…Go buy a toy for a kid that could literally change his life." To hear more about "Stuff the Bus" and see footage from events, click here.
The event begins on December 1st, and RNR Custom Wheels and Tire Express locations in the Norfolk area are excited to be the title sponsor of this event. Russell is pledging $2.00 for every tire sold between December 1st and Christmas Eve, and he'll have "Jingle Jars" at the checkouts in each of his locations so that customers can donate money to buy toys for "Stuff the Bus." On Christmas Eve, Russell plans to take the money his locations have collected and head to Toys R Us and "clean them out." Added Russell, "Last year we stuffed 14 big, yellow school buses, floor to ceiling. I'm a Christian man, and I have a desire to give back and to position RNR Custom Wheels and Tires as a retailer who gives back to the community, especially to help those less fortunate kids who Santa won't visit for Christmas."
Shaggy will be living on the bus from Monday, December 1st through Friday, December 5th, 2014, and traveling between cities to collect toys. For a schedule of toy stops and donation centers, click here.
The RNR Experience
RNR customers are provided a program that allows them to pay for the custom wheels and tires that they want in easy weekly, bi-weekly or monthly installments with no credit hassles. In addition, customers are offered the lowest cash prices on wheels or tires and have a huge selection of both new and previously rented merchandise. RNR carries just about every major brand in the custom wheel and tire industry, including: Dub, KMC, Lexani, Michelin, Goodyear and many more. For information on RNR, contact our Corporate Offices at 813.977.9800 or visit us online at rnrwheels.com.