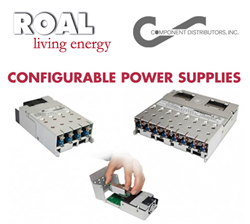 CDI & ROAL Announce the New Capability to Customize Up to 25 Configurable Power Supplies Within 24 Hours. This New Delivery Advantage is Only Available at CDI. Other Market Lead Times Can Take Up to 12 Weeks for Larger Quantity Custom Orders.
Denver, CO (PRWEB) June 27, 2014
ROAL Electronics creates innovative power conversion solutions with attention to efficiency, reliability, less space, and green designs. ROAL Electronics' RCB Series of Configurable Power Supplies are modular and offer unrivaled performance and flexibility.
ROAL's 600W and 1200W packages are the smallest Configurable Power Supplies commercially available on the market. CDI can ship up to 25 custom configured ROAL Electronics power supplies in just 24 hours, providing the quickest delivery of these ultra-flexible custom power supplies.
The ROAL RCB Series offers fully adjustable output voltages from 1.5 to 58 Volts. Additionally, the ROAL MCB600 series offers full medical approvals in the same compact package. Configuration of the RCB Series is possible without separating any chassis parts as the only removable components are the output modules and the screws.
CDI is your ROAL Certified Configuration Center in North America for unrivaled and high performance power supplies. CDI is equipped with in-depth inventory, design and engineering support, and exceptional customer service for all of your configurable power supply and component needs.
About CDI: CDI is a value added distributor of electronic components, specializing in power technologies for complex system applications. CDI distributes globally and provides local customer service and application support across the Americas. CDI delivers technical solutions that are easy to find and easy to buy, providing customers and supplier partners with design services, web commerce enablement and flexible supply chain solutions. Markets served include communications, computing, industrial, medical, military, and consumer electronics.
CDI is an authorized distributor in North America for ROAL Electronics power products. Product is available for immediate delivery through the ROAL/CDI web store: http://roal.cdistore.com.