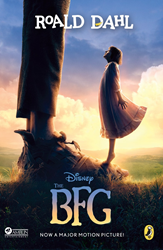 "We is in Dream Country, this is where all dreams is beginning."—The BFG
New York, NY (PRWEB) June 07, 2016
2016 marks 100 years since the birth of Roald Dahl, the author of beloved stories such as Matilda, Fantastic Mr. Fox, and The BFG. Two of Roald Dahl's most popular novels, James and the Giant Peach and Charlie and the Chocolate Factory, were written while Roald Dahl lived in the U.S. and were inspired by American culture—finding success here first before going on to become global bestsellers.
Roald Dahl 100 is the global, yearlong celebration of the creator behind the world's most imaginative characters and stories. Highlights include the release of Steven Spielberg's adaptation of The BFG on July 1st, a nationwide Roald Dahl trivia tour, screenings of Willy Wonka & the Chocolate Factory nationwide throughout the summer, and Roald Dahl 100 activities at well-known eateries, zoos and botanical gardens across the U.S. The celebrations will culminate in the biggest Roald Dahl birthday party of all time in bookstores, libraries, classrooms and public places across the country the weekend of September 17th.
Today, Roald Dahl's stories are available in 58 languages and, by a conservative estimate, he has sold more than 200 million books. Many of these stories have also been adapted for screen and stage, with combined box office proceeds exceeding $600 million for the 1971 film classic Willy Wonka & the Chocolate Factory, Tim Burton's adaptation of Charlie and the Chocolate Factory, Wes Anderson's Fantastic Mr. Fox, Matilda, directed by Danny DeVito, and the critically acclaimed film, James and the Giant Peach, produced by Tim Burton.
Theater productions of Matilda The Musical and Charlie and the Chocolate Factory are also enjoying incredible success with millions of attendees seeing the show all over the world — in the West End, on Broadway, in Australia and on a North American tour. The recent news that Charlie and the Chocolate Factory will open on Broadway in Spring 2017 made headlines globally.
As worldwide celebrations of Roald Dahl 100 commence, here are just some highlights from a year of gloriumptious events and surprises in the U.S. for 2016:
Roald Dahl 100 events:
FEBRUARY:

ALL-NEW COVERS: This February, in celebration of Roald Dahl 100, Penguin Young Readers released some of Roald Dahl's most beloved titles with all new covers including: Charlie and the Chocolate Factory, Charlie and the Great Glass Elevator, The BFG, Matilda, The Witches, James and the Giant Peach, The Twits, Fantastic Mr. Fox, George's Marvelous Medicine, Danny the Champion of the World, The Magic Finger, Esio Trot, Boy, Going Solo, and The Giraffe and the Pelly and Me.
Her Royal Highness The Duchess of Cornwall was officially named Patron of Roald Dahl 100 and has already been active in initial celebrations. The Duchess of Cornwall has a strong interest in literacy and is Patron of several organizations which promote and support leading literacy organizations in the U.K.
MARCH:

Cake Wars aired an episode on March 14th inspired by the 1971 movie Willy Wonka & The Chocolate Factory starring Gene Wilder.
APRIL:

Matilda The Musical celebrates its third anniversary on Broadway in April. The production received four Tony Awards and a Tony Honor for Excellence in the Theater for each of the four girls who shared the title role, as well as two Outer Critics Circle Awards, five Drama Desk Awards including Best Musical, and the New York Drama Critics Circle Award for Best Musical. Matilda The Musical is the story of an extraordinary girl who, armed with a vivid imagination and a sharp mind, dares to take a stand and change her own destiny.
The trailer for Steven Spielberg's adaptation of The BFG debuts across the U.S.
MAY:

On May 24th, Penguin Young Readers will publish several new books in anticipation of the theatrical release of The BFG. These include The BFG movie tie-in edition featuring a cover with special film art, The BFG Mad Libs, The BFG's Gloriumptous Journal featuring Quentin Blake art, and The Big Friendly Doodle Book.
JUNE:

Warner Bros. is bringing Willy Wonka & the Chocolate Factory (1971) to more than 600 theaters nationwide for two days only, on June 26th and June 29th.
JULY:

STEVEN SPIELBERG'S THE BFG HITS THEATERS: July 1st brings the global release of the big screen adaptation of Roald Dahl's The BFG, directed by Steven Spielberg and starring Oscar winner Mark Rylance, Ruby Barnhill and Bill Hader.
MATILDA THE MOVIE TURNS TWENTY: On July 28th, the beloved movie adaptation, starring Danny DeVito, Mara Wilson and Rhea Perlman, celebrates its twentieth anniversary.
SEPTEMBER:

NEW COLLECTIBLE HARDCOVERS: In honor of Roald Dahl's 100th birthday, Penguin Young Readers will publish new collectible hardcover editions of some of Roald Dahl's beloved stories: Matilda, Charlie and the Chocolate Factory, Charlie and the Great Glass Elevator, Fantastic Mr. Fox, and James and the Giant Peach, all available September 6, 2016.
LOVE FROM BOY: Roald Dahl's Letters to His Mother, a revelatory collection of personal letters, edited by Donald Sturrock, will be on-sale in the U.S. on September 6th from Blue Rider Press.
THE OXFORD ROALD DAHL DICTIONARY will be published by Oxford University Press in September and is a fully functioning dictionary for children aged 8+, which celebrates the way Roald Dahl both used language and created his own additions to it. The dictionary features full-color illustrations by Quentin Blake.
THE ROALD DAHL SPLENDIFEROUS SHOWDOWN: Story Pirates, in partnership with Penguin Young Readers and the Roald Dahl Literary Estate, will visit schools and libraries across the country with a fast-paced and interactive live trivia show inspired by the storytelling genius of Roald Dahl. The tour will kick off on September 12th and run throughout the month of September. Story Pirates is a nationally respected education and media organization founded in 2003 to celebrate the words and ideas of young people.
WONDERCRUMP WEEKEND: September is Roald Dahl Month and the weekend of September 16th will see libraries, bookshops, eateries and public places in the U.S. and across the world hosting exciting and fun-filled parties celebrating Roald Dahl's 100th birthday. Party pack activities will be available for fans to download at Roalddahl.com/party.
DAHLICIOUS DELIGHTS: Creative and popular dessert companies across the country will be selling deliciously fun sweet treats inspired by Roald Dahl's books during September. Participants include Ample Hills Creamery, Four & Twenty Blackbirds, and Baked in NYC; The Pie Hole, Coolhaus, Milk Jar Cookies, and Knuckle & Claw (co-owned by Roald Dahl's granddaughter, Chloe) in LA; Craftsman and Wolves in San Francisco; Voodoo Doughnut in Portland, Eugene, Austin, and Denver; Flour Bakery, J. P. Licks, and Union Square Donuts in Boston, and many more!
BUCKSWASHLING NATURE: Beloved zoos and gardens are celebrating Dahl's love of nature and animals with magical programs for children, such as a week-long Charlie & the Chocolate Factory festival and movie screening at the Memphis Botanic Garden, a Dahl-themed DreamNight for sick children at Lincoln Park Zoo, a number of educational programs, readings, and food tastings at the Dallas Arboretum, chocolate-making activities and education at the United States Botanic Garden, pop-up books and bug activities at Wave Hill in New York, and much more.
NOVEMBER-DECEMBER:

HAPPY DAHLIDAYS SWEEPSTAKES: In honor or Roald Dahl 100, Penguin Young Readers will launch a sweepstakes to give fans a chance to enter and win Roald Dahl books, tote bags, musical soundtracks and more.
Roald Dahl (1916-1990) was born in Wales of Norwegian parents. In 1951, Roald Dahl met his future wife, the American actress Patricia Neal, who starred in films including The Day the Earth Stood Still, Breakfast at Tiffany's, and Hud, for which she won an Oscar. After establishing himself as a writer for adults, Roald Dahl began writing children's stories in 1960 and wrote two of his best-known novels, James and the Giant Peach and Charlie and the Chocolate Factory in the U.S.
In September 1964, Charlie and the Chocolate Factory was published initially in the U.S. with the U.K. following a few years later. It would go on to become one of the most famous and best-known of Roald's stories. The idea for the story grew out of his own well-documented love of chocolate and his school-day memories of acting as a taster for a famous chocolate factory. These first stories were written as entertainment for his own children, to whom many of his books are dedicated.
Today, Roald Dahl's stories are available in 58 languages and have sold more than 200 million books. With more than 40 million Roald Dahl books in print in the U.S. alone, Dahl is considered one of the most beloved storytellers of our time and his popularity continues to increase as his fantastic novels, including James and the Giant Peach, Matilda, The BFG, and Charlie and the Chocolate Factory, delight an ever-growing legion of fans.
For more information please visit http://www.roalddahl.com/usa
Facebook.com/RoaldDahl
Twitter.com/roald_dahl * Don't forget to hashtag #roalddahl100
Youtube.com/officialroalddahl
Pinterest.com/roalddahl
Instagram: @roald_dahl * Don't forget to hashtag #roalddahl100
Penguin Young Readers
Penguin Young Readers is one of the leading children's book publishers in the United States. The company owns a wide range of imprints and trademarks including Dial Books, Dutton, Grosset & Dunlap, Philomel, Puffin, Speak, Firebird, G. P. Putnam's Sons, Viking, Razorbill, and Frederick Warne. These imprints are home to such award-winning, New York Times- bestselling authors as Laurie Halse Anderson, Jay Asher, Judy Blume, Jan Brett, Eric Carle, Ally Condie, Roald Dahl, Tomie dePaola, Sarah Dessen, Anna Dewdney, John Flanagan, Gayle Forman John Green, Oliver Jeffers, Mike Lupica, Richelle Mead, B.J. Novak, Richard Peck, Judy Schachner, Jacqueline Woodson and dozens of other popular authors. Penguin Young Readers Group is also the proud publisher of perennial brand franchises such as The Little Engine That Could, the Nancy Drew and Hardy Boys series, Peter Rabbit, Spot, the Classic Winnie the Pooh, The Very Hungry Caterpillar, Strega Nona, Madeline, Mad Libs, Alex Rider, the Rangers Apprentice, Skippyjon Jones, Flower Fairies, and Pippi Longstocking, among many others. Penguin Young Readers Group is a division of Penguin Group LLC, a Penguin Random House company.
Roald Dahl 100
Entitled Roald Dahl 100, 2016 marks 100 years since the birth of Roald Dahl—the world's number one storyteller. There will be celebrations for Roald Dahl 100 throughout 2016, delivering a year packed with gloriumptious treats and surprises for everyone.
Roald Dahl said, "If you have good thoughts they will shine out of your face like sunbeams and you will always look lovely."
The Roald Dahl Literary Estate believes in doing good things. That's why ten percent of all Roald Dahl income* goes to our charity partners. We have supported causes including: specialist children's nurses, grants for families in need, and educational outreach programs.
The Roald Dahl Charitable Trust is a registered UK charity (no. 1119330).

All author payments and royalty income net of third party commissions.
Partners in Health
A percentage of proceeds from some of the Roald Dahl 100 events planned for this September will be donated to Partners in Health, a charity co-founded by Ophelia Dahl, Roald Dahl's daughter. Partners in Health works in partnership with local governments and health providers to bring high-quality health care to poor communities in ten countries.
PIH believes that health is a human right and that a person's ability to pay for treatment should not determine their access to health care. For nearly 30 years, PIH has shaped discourse among global health policymakers and proven what is possible in making health care accessible to all people.
PIH trains local health workers, nurses, and doctors in order to raise the standard of care for poor people. In partnership with the world's leading medical and academic institutions, PIH aims to build workforces of local health professionals to strengthen and sustain public health systems.
Our achievements are based on our philosophy of accompaniment. To us this means working beside and learning from people in the countries where we work. We share experiences and goals, partnering to bring care where it is needed most.
For more information, visit http://www.pih.org.
*For more information about 100 years of Roald Dahl storytelling or to reach out about interview opportunities about Roald Dahl's legacy, please contact:
Elena Stokes, Wunderkind PR
elena[at]wunderkind-pr[dot]com