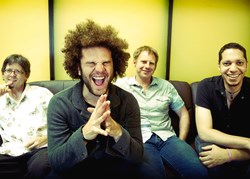 "With his latest album, 'Little Steps,' Drabkin seems to be channeling the kings of Triple A Radio." - Marquee Magazine
Denver, CO (PRWEB) October 14, 2013
Rob Drabkin releases "Little Steps."
Sophisticated, feel-good rock & roll. - Direct Courant
Denver Colorado native Rob Drabkin never sang a note until he was 22 years old, but that hasn't stopped him from hitting #10 on the CMJ charts, winning Colorado's Best Singer/Songwriter award from Westword Magazine 2008- 2010, performing at the legendary Red Rocks amphitheater, joining artists like The Fray, Widespread Panic, Tool, and Ben Harper at The Mile High Music Festival, or touring with Trevor Hall, Tea Leaf Green, Carbon Leaf, and Davy Knowles/Back Door Slam, all within a span of 10 years. This fall, Rob releases his sophomore album "Little Steps."
Rob's powerful vocals and syncopated guitar drive soaring openers "For You I Would Die" and "Down To Fate" and his lyrical content gradually progresses into to a hopeful and joyous space with "Down To Fate" and title track "Little Steps." Little Steps is an album that delivers an ultimate feeling of elation while giving the listener the urge to dance, all with a sprinkling of thoughtful lyrics.
Rob has assembled a truly impressive roster of musicians on "Little Steps," including jazz virtuoso "Bijoux" Barbosa on bass (Herbie Mann and Dave Grusin), Brian McRae on drums and percussion (The Bodeans and The Freddy Jones Band), Eric Moon on keyboards (Bjork and Victor Wooten), Dave Preston on guitar, and features Rob's father, Harry Drabkin on saxophone.
Little Steps was recorded, mixed and mastered by J.P. Manza (Mumford & Sons, Matisyahu) at Colorado Sound Studios and was jointly produced by Rob Drabkin and J.P. Manza. Rob Drabkin is sure to find fans in those who enjoy the music of Paul Simon, Ray Lamontagne, David Gray, or Damien Rice. "Little Steps" is an album not to be missed.
You can learn more about Rob Drabkin at http://www.robdrabkin.com.
For more information, images, or to arrange for an interview with Rob Drabkin, please contact Melissa Zeigler at Powderfinger Promotions: melissa(at)powderfingerpromo(dot)com.
Powderfinger Promotions–Independent Radio Promotion and Publicity. Since being founded in October 1994, Powderfinger has come to be regarded as a top indie radio promotion and publicity firm with ties across North America.