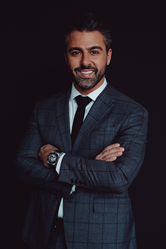 CHICAGO (PRWEB) September 27, 2022
The Haute Lawyer Network, well known for its exclusive and luxurious lifestyle publication Haute Living, is privileged to present Mr. Robert Fakhouri as a member and expert in his field. Haute Lawyer offers a prominent collective of leading attorneys.
The invitation-only network features only two lawyers per market. This partnership allows Haute Lawyer to connect its affluent readers with industry-leading attorneys in their area.
ABOUT ROBERT FAKHOURI
Robert S. Fakhouri is the founder and leading lawyer of The Fakhouri Firm. Licensed to practice law at 23, he started out with a big firm. Robert then founded The Fakhouri Firm at 25, a trial law firm that specializes in personal injury as well as wrongful convictions and sexual assault matters. He is the recipient of the 2021-2022 "Top 40 Under 40" by the National Trial Lawyers and is the recipient of the 2019-2022 Illinois Super Lawyer "Rising Star" award, an honor awarded to only 2.5% of attorneys in Illinois.
Outside of law, Robert is a dedicated member of his social community. He is a founding board member of the Hippocratic Cancer Research Foundation and a Director on the board of the Greek American Rehabilitation Center in Illinois. Robert recognizes the significance of his community and fights to advocate for others inside and outside of the court of law.
The Fakhouri Firm is a personal injury law firm dedicated to protecting the legal rights of victims who have sustained catastrophic injuries or were killed because the wrongful conduct of others. Over the years, The Fakhouri Firm has recovered millions in settlements on behalf of their injured clients. The firm offers a free and confidential consultation and no fee is paid unless a case is successfully resolved. To learn more, call The Fakhouri Firm at (312) 999-9990.