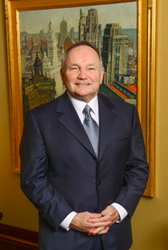 "Best Lawyers is the most effective tool in identifying critical legal expertise," said President and Co-Founder Steven Naifeh. 'Inclusion on this list shows that an attorney is respected by his or her peers for professional success."
CHICAGO, IL (PRWEB) September 01, 2015
Robert A. Clifford, founder and senior partner at Clifford Law Offices, has been named as one of the top lawyers in the 2016 Edition of Best Lawyers, the oldest and most respected peer-review publication in the legal profession.
Clifford was named as the top attorney in the Chicago metropolitan area in Plaintiffs' Mass Tort Litigation/Class Action work in 2016. U.S. District Court Judge James B. Zagel of the Northern District of Illinois appointed Clifford "as class counsel for his demonstrated skills in the field."
Also, individual attorneys at Clifford Law Offices were named among the 2016 Best Lawyers in America in other practice areas as well. Clifford was named in Bet-the-Company Litigation, Commercial Litigation, Plaintiffs Mass Tort Litigation/Class Actions, Plaintiffs Personal Injury Litigation, Plaintiffs Product Liability Litigation and Qui Tam Law. Partners Kevin P. Durkin was named a Best Lawyer in Plaintiffs Personal Injury and Product Liability Litigation and Keith Hebeisen was named for his work in Plaintiffs Medical Malpractice Law and Personal Injury Litigation, both having been named to the list in 2011. Also added to the 2016 list were partner Richard F. Burke, Jr. in Plaintiffs Personal Injury Litigation and partner Shannon M. McNulty in Plaintiffs Product Liability Litigation; both were named last year as well.
Best Lawyers has published its list for more than three decades, earning the respect of the profession, the media and the public as one of the most reliable, unbiased sources of legal referrals. Since it was first published in 1983, Best Lawyers has become universally regarded as a definitive guide to legal excellence.
"Best Lawyers is the most effective tool in identifying critical legal expertise," said President and Co-Founder Steven Naifeh. 'Inclusion on this list shows that an attorney is respected by his or her peers for professional success."
Lawyers on the Best Lawyers in America list are divided by geographic region and practice areas. They are reviewed by their peers on the basis of professional expertise and undergo an authentication process to make sure they are in current practice and in good standing.
Clifford Law Offices is proud of its lawyers who have been selected as among the Best Lawyers in America. The 2016 "Best Law Firms" rankings can be seen in their entirety by visiting http://www.bestlawyers.com/