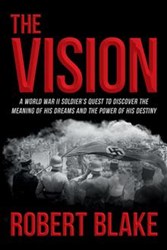 Dallas, TX (PRWEB) February 10, 2014
Author Robert Blake uses the 1940s and Hitler's rise to power, combined with prophetic parallels from the book of Revelation as the backdrop for his new book, "The Vision: A World War II Soldier's Quest to Discover the Meaning of His Dreams and the Power of His Destiny" (published by Inspiring Voices).
"Many books have been written on Bible prophecy, but I don't know of many that have incorporated the topic into more of a historical novel, making parallels between events of the past to what is yet to come," Blake writes.
A suspenseful and romantic thriller, "The Vision" takes readers on a soldier's journey through World War II as he experiences visions of the world's future and his destiny in a story of foretelling, love and spiritual renewal.
The predictive visions the young soldier sees show the similarities between Hitler's rise to power and Revelation's depiction of the imminent rise of a world dictator. "The Vision" chronicles the soldier's journey to decipher these dreams and visions – with the help of war buddies, a priest and a beautiful girl who becomes his love interest.
"I want the reader to become more keenly aware of the times we are living in," Blake says, "and, in that regard, to recommit their lives to God through total surrender to him."
"The Vision"
By Robert Blake
Softcover | 6 x 9 in | 248 pages | ISBN 9781462408542
E-Book | 248 pages | ISBN 9781462408559
Available at Amazon and Barnes & Noble.
About the Author
Robert Blake specializes in fictional historical thrillers with prophetic implications. Though his background has included many years in the corporate world, he says his heart is for God and his passion is that of a storyteller.
Inspiring Voices, a service of Guideposts, is dedicated to helping authors share their words of hope, faith and inspiration with the world. A strategic publishing partnership with indie book publishing leader, Author Solutions, LLC; Inspiring Voices allows authors to publish inspirational and spiritual books without respect to their specific doctrine, denomination or political point-of-view. Authors published through Inspiring Voices benefit from access to exclusive Guideposts marketing services, with select titles appearing in a special collection at Guideposts.org. For more information on publishing with Inspiring Voices, log on to inspiringvoices.com or call 866-697-5313.