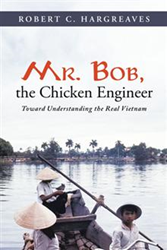 Bakersfield, Calif. (PRWEB) March 18, 2014
As an agricultural volunteer in Vietnam during the Vietnam War, Robert C. Hargreaves experienced a different side of the country than did soldiers fighting in the war. He shares his experiences in his new book, "Mr. Bob, the Chicken Engineer: Toward Understanding the Real Vietnam" (published by Abbott Press).
As a member of the International Voluntary Services – a predecessor to the Peace Corps – Hargreaves helped develop chicken raising projects and other agricultural endeavors, projects that often made the difference between starvation and survival for the Vietnamese people. The closest expression the Vietnamese had for Hargreaves' position of poultry specialist was "chicken engineer" – as funny a phrase in Vietnamese as it is in English – ensuring he was not easily forgotten.
In his new book, Hargreaves reveals details of the war period in Vietnam that are often not discussed in the Western world: soldiers giving away their paychecks to help children, the growing anti-American sentiments as the war dragged on, and others.
"Most writing about Vietnam is about war and politics – an American war and American politics," Hargreaves says. "Little is said about the country itself and without understanding the people involved in our wars, we continue to make the same mistakes and are unable to understand our participation in war."
"Mr. Bob, the Chicken Engineer"
By Robert C. Hargreaves
Hardcover | 6 x 9 in | 108 pages | ISBN 9781458213501
Softcover | 6 x 9 in | 108 pages | ISBN 9781458213518
E-Book | 108 pages | ISBN 9781458213495
Available at Amazon and Barnes & Noble
About the Author
Robert C. Hargreaves is a retired poultry specialist who formerly worked with the California Department of Food and Agriculture. He was also an agricultural volunteer with the International Voluntary Services during the Vietnam War and later.
Abbott Press, a division of Writer's Digest – the oldest and most respected publisher devoted to the education and advancement of writers – is an indie-publishing imprint dedicated to helping writers bring their literary vision to print. Author Solutions, LLC, a leader in indie book publishing, will fulfill publishing, sales, and marketing services for Abbott Press. For more information, or to begin publishing a book today, log on to abbottpress.com or call 866-697-5310.