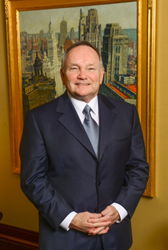 CHICAGO, IL (PRWEB) June 22, 2015
Robert A. Clifford, founder and senior partner at Clifford Law Offices, traveled to London this month as part of the special American Bar Association (ABA) four-day program in London and Runnymede to mark the 800th anniversary of the signing of the Magna Carta.
Clifford moderated a program entitled "Where Would You Try a Case? A Live Action Primer on Trial Skills in the U.S. and the U.K." on Friday, June 12th, from 2:30-4 p.m. at the Grosvenor House in London.
Recognizing that civil jury trials are limited in the U.K., this program focused on the different approaches taken in the U.S. and U.K. courts to critical trial skills and the application of those to civil, criminal and commercial cases. Experienced practitioners and U.S. and U.K jurists were given fact patterns from which they will describe the differences in making opening statements, handling witness preparation, presentation of direct and cross examinations and then finally the closing arguments.
The U.S. and U.K. judges will alternate in their respective commentary and analysis of the lawyers' comparative skills. The goal will be to fully explore the actual differences in a courtroom for each country and to illustrate the nuances in approach when the audience is a judge instead of a jury. A discussion among all participants followed each trial skill and case discussion. Emphasis was placed on analyzing the role of the jury in resolution of civil disputes in the U.S. and the significance of its absence in the U.K.
Program participants included United States District Court Judge Lorna Schofeld of the Southern District of New York; Paul Mark Sandler of Baltimore, MD.; Professor Stephen Saltzburg of George Washington University Law School in Washington, D.C.; and The Hon. Philip St. John-Stevens of England as well as Nicholas Stewart Q.C. and Ian Glen, Q.C.
About Clifford Law Offices
Clifford Law Offices is ranked one of the top law firms in Illinois as well as in the country in the area of complex personal injury and wrongful death cases such as medical malpractice, aviation litigation, products liability, premises liability and transportation litigation. It also has developed a reputation in qui tam litigation or whistleblower cases and handles class action matters as well as commercial litigation cases. To learn more visit http://www.CliffordLaw.com