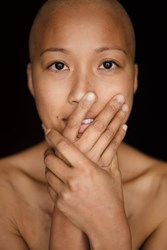 My session with Bob was a rare moment, when someone was looking closely at me with interest and seeing more than just my cancer... when I look at the images that he captured, I don't see anything wrong with me.
San Francisco, CA (PRWEB) September 18, 2013
Bay area professional photographer, Robert Houser, presents Facing Chemo, a collection of images depicting the honest, unaffected emotions of people undergoing chemotherapy. The project began as a portrait session with a young woman about to undergo a bone marrow transplant. An award winning image and the encounter itself inspired him to explore this unique portrait experience further.
Eighteen months and over thirty patients later, the show debuts with an opening reception on Friday, September 20th from 5pm to 9pm. Additional gallery hours include Friday 9/20 from 12-3pm, Saturday 9/21 from 12-3pm and 5-8pm, and Sunday 9/22, 12-3pm at the Piedmont Center for the Arts, 801 Magnolia Avenue, Piedmont, California, 94611.
Participants are photographed in a simple setting, with black backdrops, unadorned, without make-up, allowing for the intensity of their emotions to push to the fore. The exhibit includes a series of larger than life, 36" by 54" portraits, a video reel of selected excerpts from the participants themselves, and the unveiling of Facing Chemo, a professionally designed fine art photography book.
In the process of treating the underlying disease, chemotherapy exposes not only a person's illness to others, but their inner emotions as well. Each subject holds the common thread of 'facing chemo', yet each one is unique in their setting, their diagnosis, how they are coping with this challenge in their lives and how they choose to outwardly present themselves. Houser's goal is to tell their stories by sharing these images so that others can experience the emotional engagement, be inspired by their spirit, and moved by their journeys.
Robert Houser has spent over twenty years specializing in portraiture for advertising, editorial, corporate and pro bono clients. He began his career shooting adventure travel work worldwide and then moved to portraiture in the mid nineties. His work has appeared in publications such as Men's Health, Fitness, Business Week, Sunset, Forbes, Wired and Outside. His advertising and corporate clients include Visa, Kodak, Safeway, Title Nine, UPS, Yahoo!, Sanofi, and BioRad, among others.