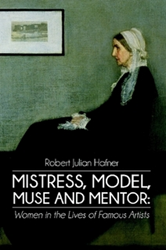 Deeper appreciation of what women have given, and some ideas for both men and women about how this may influence their own lives
ADELAIDE, Australia (PRWEB) June 10, 2014
Author Robert Julian Hafner pays homage to the women behind the famous artists in his poignant new book, "Mistress, Model, Muse and Mentor: Women in the Lives of Famous Artists" (published by Lulu).
Hafner, who has previously published two books about gender issues, explores the lives of well-known male painters of the 19th and 20th centuries and the women who influenced their lives. From James McNeill Whistler's love interests to the role of supermodels today, Hafner's book analyzes gender stereotypes and constraints of women during their lives.
"Mistress, Model, Muse and Mentor: Women in the Lives of Famous Artists" also provides a psychological look at creativity and the effects of psychiatric treatment on creativity. Hafner, a retired psychiatrist, adds his unique insights to the discussion and offers his musing on what can be gained from these women's' stories.
Through his book, Hafner aims to leave readers with a "deeper appreciation of what women have given, and some ideas for both men and women about how this may influence their own lives."
"Mistress, Model, Muse and Mentor: Women in the Lives of Famous Artists"
By Robert Julian Hafner
Softcover | 6 x 9 in | 270 pages | ISBN 9781483406879
E-Book | 270 pages | ISBN 9781483406886
Available at Amazon and Barnes & Noble
About the Author
Robert Julian Hafner was trained in medicine at St Thomas' Hospital at London University and as a psychiatrist at St George's and the Maudsley Hospitals in London. He later immigrated to Australia and worked as a psychiatrist until 2004. Since then he has worked in the Art Gallery of South Australia as a volunteer guide. He has previously published "Marriage and Mental Illness" and "The End of Marriage."
Lulu empowers people of all ages to explore and express their interests, passions and expertise through books, photography and art. Since introducing self-publishing in 2002, Lulu has empowered creators in more than 225 countries and territories to produce nearly two million publications. Lulu Jr. allows children to become published authors, encouraging creativity, strengthening literacy and building self-esteem. Picture.com offers professional photography of collegiate and professional sports, memorable and historic events, fine art and home décor. For more information, please visit http://www.lulu.com.