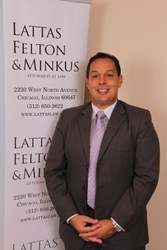 I have always felt it was imperative and still do to give back to the community and am looking forward to seeing what impact my partners and I can make on this great City.
Chicago, Illinois (PRWEB) January 11, 2014
As of 2014, the partnership of Lattas, Felton & Minkus is dedicated to the practice of real estate law, exclusively. Our practice assists individuals looking to buy or sell a home. With nearly fifty years of combined experience, among five attorneys, Lattas, Felton & Minkus has the ability to consummate any residential real estate transaction in the State of Illinois.
A lifelong Chicagoan, Robert Lattas is dedicated to serving his community and the needs of the less fortunate. Having served on the board of the Mary Elizabeth Waller Foundation, an organization dedicated to the prevention of domestic violence and child abuse and formed after the murder-suicide of a close friend, Robert has helped raise over $100,000 to this cause. Additionally, Robert serves on the school board of Koraes Elementary School and Saints Constantine and Helen Greek Orthodox Church. He is also a member of the Alumni Board of the Indiana University Maurer School of Law, an advisory panel to the Dean of the law school.
The law offices of Lattas, Felton & Minkus also support many other organizations including St. Jude Children's Hospital, The Dystonia Medical Research Foundation, A New Direction, PAWS (Pets Are Worth Saving), The Leukemia and Lymphoma Society, Friends of Burr School and many other organizations that serve the greater Chicago community.
Additionally, Robert has served on the faculty at the Driehaus School of Business at DePaul University as well as the Wayne Huizenga School of Business and Entrepreneurship. He is licensed by the State of Illinois and actively provides continuing education coursed to realtors focusing on license law, escrow, and disciplinary provisions.
About Lattas, Felton, and Minkus
Attorney Robert D. Lattas has been practicing law in Chicagoland since 2001 focusing primarily on residential real estate transactions. In January 2013, after seven years of working with attorneys Steven Felton and Aaron Minkus, they became partners and formed the law firm of Lattas, Felton & Minkus. Their office is in the heart of Bucktown in Chicago located at 2220 West North Avenue. Click here for information on Robert Lattas, or Lattas, Felton & Minkus. Additionally, you can contact them at 312-850-2622 or info(at)lfmlawgroup(dot)com.