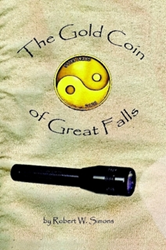 Readers are left to find the answers to these and many other questions in "The Gold Coin of Great Falls."
GAINSVILLE, Fla. (PRWEB) December 15, 2014
Seven hundred years into the future, a student from East Africa named Tanei, her classmates and a professor at the University of Great Falls attempt to find the origin of a small gold coin from the year 2121. They hope that by finding the gold coin's origin, they will uncover related artifacts that will reveal why 21st-century civilization collapsed.
In the new science-fiction fantasy novel by Robert W. Simons titled "The Gold Coin of Great Falls" (published by Lulu), Tanei and her colleagues launch a daring adventure to unravel the mystery of humanity's downfall so many years ago.
They know the coin was found and then sold by a mysterious old woman, but they don't know how to find her. What they do know is that searching for her among the ruins of the Old City – with its gangs, abandoned buildings and underground tunnels – can be dangerous. The police department's attempts at locating the old woman resulted in a dead policeman.
They have three options: acquire and analyze every artifact related to the coin from the Great Falls City Police Department; search the abandoned tunnels and buildings in the Old City for ancient artifacts; or try to find and question the old woman in person. They pursue all three.
Will this group of students find the artifacts they are searching for? Will they find the old woman? Will they find out why 21st-century civilization collapsed? Will they survive long enough to find anything? Readers are left to find the answers to these and many other questions in "The Gold Coin of Great Falls."
"The Gold Coin of Great Falls"
By Robert W. Simons
Hardcover | 6 x 9 in | 184 pages | ISBN 9781483411927
Softcover | 6 x 9 in | 184 pages | ISBN 9781483411903
E-Book | 184 pages | ISBN 9781483411910
About the Author
Robert W. Simons is a retired forester and a Vietnam War veteran. He was born in 1942 in Bellefonte, Pennsylvania and married his wife, Erika, in 1973. He has two grown children and has lived most of his life in Gainesville, Florida.
Lulu empowers people of all ages to explore and express their interests, passions and expertise through books, photography and art. Since introducing self-publishing in 2002, Lulu has empowered creators in more than 225 countries and territories to produce nearly two million publications. Lulu Jr. allows children to become published authors, encouraging creativity, strengthening literacy and building self-esteem. Picture.com offers professional photography of collegiate and professional sports, memorable and historic events, fine art and home décor. For more information, please visit lulu.com.