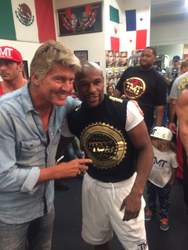 (PRWEB) August 26, 2014
Recently, Robin's Jean owner and founder, Robin Chretien, got the opportunity to meet with undefeated welterweight world champion, Floyd Mayweather Jr. at his gym in Las Vegas! Mr. Mayweather took time out of his busy training schedule to give Robin a tour of the gym and to show him a few pointers in boxing. This encounter is sure to make Robin's Jean's merchandise more popular with today's youth.
Mayweather Jr. is currently undefeated as a professional and is a five-division world champion, having won ten world titles and the lineal championship in four different weight classes. Mayweather is a two-time Ring magazine Fighter of the Year (winning the award in 1998 and 2007); he also won the Boxing Writers Association of America(BWAA) Fighter of the Year award in 2007 and the Best Fighter ESPY Award in 2007, 2008, 2010, 2012 and 2013.
The champion topped the Forbes and Sports Illustrated lists of the 50 highest-paid athletes of 2012, 2013 and recently the Forbes 2014 list, currently making him the highest paid athlete in the world. Mayweather will put his unblemished 46-0 record on the line again when he faces Buenos Aires native, Marcos Maidana, in a rematch on September 13, 2014 at the MGM Grand Garden Arena in Las Vegas.
Photo credit: Hughie Johnston
Robin's Jean features a unique collection of jeans, jackets, tops, hats and belts for men and women designed by Robin Chretien. Represented by the gold wings logo, Robin's Jean captures Robin's childhood dream of freedom and flight. Robin arrived in Los Angeles in 1996 and by 2005, he decided to incorporate his passions for designing clothes, riding motorcycles and vintage cars with his fascination of Native American Indians to create his own line, Robin's Jean. In summer of 2014, the brand launched their fine leather footwear and a new kids collection in their online store.
Robin's Jean is Made in the USA and there are currently five Robin's Jean Flagship store locations; Beverly Hills, CA; Soho, NY; Laguna Beach, CA; Ibiza, Spain, Garden State Plaza in Paramus, New Jersey, as well as online at http://www.robinsjean.com.
PR Contact: kim(at)robinsjean(dot)com