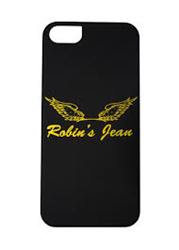 (PRWEB) November 03, 2014
Designer denim brand Robin's Jean has entered the tech arena by launching it's first Apple iPhone 5s cases. The cases not only serve the purpose of protecting the coveted iPhone, they are an extension of the Robin's Jean fashion and style aesthetic and compliment the brand's collections of jeans, shoes, leather jackets, as well as accessories like hats and belts.
They are available in two colors, black and white, with the brand's iconic metallic gold winged logo on back. Designer and founder Robin Chretien plans to include new models as Apple continues to roll out new iPhone models such as the 6 and the 6S. The alluring styles are all unisex and are able to take our customers from day to night with the right amount of chic simplicity.
Robin's Jean iPhone 5s cases retail for $35.00 USD and are currently available at http://www.robinsjean.com/men/accessories/tech-accessories
Founded in 2005 by Robin Chretien, the LA based premium denim brand sells leather belts, shoes, jeans, t-shirts, hoodies, and leather jackets for men, women and children. The brand's signature gold wing logo is an eclectic combination of modern biker style with Native American influence which symbolizes freedom. The American retailer, which currently has five stores in Beverly Hills, New York, Laguna Beach, Ibiza, Spain and Garden State Plaza in Paramus, NJ, is currently working on their sixth location in Park City, Utah.