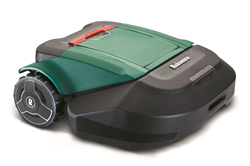 "Domestic robots, in a variety of applications, are imminent and will soon be as common as the microwave in every home. When that happens, Robomow is perfectly positioned to be among the brand leaders. - Udi Peless
Vero Beach, FL (PRWEB) June 07, 2016
Robomow Announces Drive to Cut Down Mowing Injuries
Citing statistics that stress the many potential hazards of mowing lawns, leading robotic lawn mower innovator Robomow announced its intention to dramatically reduce the number of people who are harmed during this seemingly simple household chore with the release of their latest 2016 models and their application updates.
"Mowing the lawn is a universal experience, but it hides dangers that injure hundreds of thousands of people annually," observed company co-founder Udi Peless. "We believe the incidence of harm should be far lower." With the 2016 application update consumers will soon be able to see how much CO2 they are stopping from going into the atmosphere through the My Robomow feature.
Research data supports Peless's assertion. In 2010 alone, for instance, the U.S. Consumer Product Safety Commission reported that 253,000 lawn-mower related injuries occurred in the U.S. annually. Children below the age of 19 made up almost 17,000 of these victims. Another study published in the Annals of Emergency Medicine revealed that the majority of hospitalization-requiring injuries between 1996 and 2004 included fractures and amputations of bones in the feet.
With such a high risk of harm directly related to the task of mowing, the impetus for safer alternatives seems clear. To this end, the company has introduced a number of automated and programmable mowers that function without human intervention. As one spokesperson astutely remarked, "Mowers can't hurt people if people aren't around them when they're operating." With the latest application update Robomow users are able to set their mowing schedule right on their phone. The latest features of the new 2016 models come with a Smart Mow feature that allows the robotic mower have a smoother curve around the perimeter wire.
Injuries caused by lawnmowers, such as contact burns and traumatic lacerations, aren't the only forms of damage in Robomow's sights. According to the firm, insect stings and exposure-related illness, like heatstroke, also prompt a significant number of medical interventions each year. By minimizing the amount of time people need to spend laboring outdoors, the firm believes it can largely eliminate such risks.
The damage conventional mowing practices inflict on the environment are just as noteworthy as the high rate of illness. The U.S. Environmental Protection Agency estimates that some 17 million gallons of gasoline and other fuels are spilled each year as people refill mowers and similar equipment. Lawn mowing alone is believed to cause no less than 800 million gallons of fuel consumption each year, and by some accounts, it's responsible for 5 percent of the total air pollution emitted in the U.S.
Could electricity-driven robotic lawn mower technology hold the answers to these problems? Robomow believes they do. Since 1995, the company has staked its reputation and livelihood on this idea to international acclaim, and it's proud to continue raising awareness by improving the way people perform commonplace household tasks.
Contact:
Giselle Sendra
Digital Marketing Director, USA
844-762-6669
giselles(at)robomow(dot)com