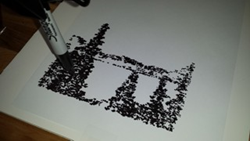 Albuquerque, New Mexico (PRWEB) June 07, 2014
Phantom Data Services is pleased to announce its latest project -- a robotic artist. The project combines a research-grade robotic arm with custom software that generates unique artwork from simple photographs.
The software imports an image file and automatically converts it to a series of dotted patterns. The robot, which holds a permanent marker in its grip, then reproduces the image on paper, drawing each individual dot in series. The quality of the final image is based on the density and number of dots. As more dots are added, the image becomes increasingly detailed.
The drawing process is slow and tedious, taking over an hour for a single image, but the final result is an impressionistic version of the original image. Phantom Data Services is currently working on methods to improve the efficiency of the drawing process.
Phantom Data Services has launched a new website design to coincide with the release of this unique art project. The new website features several videos of the robot artist at work, along with other technologically-driven art projects produced by Phantom Data Services.
The project is currently still under development. Additional algorithms are being developed to produce new and different artistic effects. More videos and images will be posted to the Phantom Data Services website as these new features are tested.
For more information about this robot art project, visit http://www.phantomdataservices.com.
Phantom Data Services, LLC is an Albuquerque, New Mexico based Limited Liability Company specializing in advanced development services for web and mobile applications.