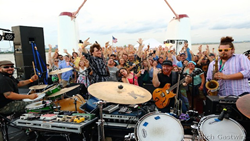 Reggae/Rock that erupts on stage, severing artist-audience barriers while summoning fans to join them in an awakening. – RELIX
(PRWEB) December 08, 2015
Reggae/Rock that erupts on stage, severing artist-audience barriers while summoning fans to join them in an awakening. – RELIX
New England Music and Cider Magazine Award Winners, Roots of Creation, mix roots and dub reggae with guitar-heavy rock and electronica, all wrapped around lead singer/guitarist and Berklee student, Brett Wilson's, introspective and consciousness laden lyrics. The band is raising the bar at every performance with the intent of delivering a true rock show cleverly disguised as a reggae dance bash with psychedelic and energizing lights. Roots of Creation (RoC) is made up of founding members guitarist/lead singer Brett Wilson, keyboard and melodica player Tal Pearson, and drummer Mike Chadinha. The trio is now joined by newest members Billy Kottage (Reel Big Fish) on trombone, harmony vocals, rhythm guitar, and keys, Andrew Riordan on saxophone, harmony vocals, and synth, and Nick Minicucci on bass guitar.
After hitting the top 20 in the Relix/Jamband charts, RoC developed into "A touring Powerhouse" (thepier.org), performing at sold out shows with some of their diverse influences - Slightly Stoopid, The Wailers, Lupe Fiacso, Michael Franti, and Fishbone-around the country, at your local college, raging high profile festival slots at Gathering of The Vibes, Wakarusa, Closer to the Sun (Mexico), Catskill Chill, Camp Bisco, and headlining their own events--each a unique experience. The "RoC Family" keeps growing exponentially due to their rabid and adoring fan base and street team of "Universal Soldiers."
You can pre-order the upcoming triple album here and check them out at any of these upcoming shows!
12/10: New York, New York | Marlin Room at Webster Hall
Other Acts: Ballyhoo! + InDaze
Ages: 16+
Admission charge: $13
Doors: 6pm
Set Times: InDaze 6:45pm. Roots of Creation at 7:30pm
Tickets
RSVP
12/11: Boston, MA | Brighton Music Hall
Other acts: Ballyhoo! + DJ Bake Joynton (of Wobblesauce)
Ages: 18+
Admission charge: $14
Capacity: 600
Doors: 8pm
Set Times: Show 9pm. Roots of Creation 9:30pm
Tickets
RSVP
12/12: Baltimore, MD | Baltimore Soundstage
Other acts: Ballyhoo! + Bumpin Uglies + The Evokatones
Event name: Ballyhoo! presents "Nightmare Before Christmas"
Ages: All Ages
Admission charge: $18 adv
Capacity: 1000
Doors: 7pm
Set Times: Show at 8pm.
Tickets
RSVP
"From addictive reggae pop songs to consciously charged roots rhythms and electronic improvisations, the grace and precision with which ROC execute their bass-heavy works is overwhelming. Their roots are tinged with rock, their rock brushed with electronica, and they're as likely to dash off into a 10-minute guitar-led groove as they are to perform righteous vocal songs that resonate like the roots-rock classics of old" – (Homegrown Music Network)
For more information, images, or to arrange for an interview, please contact Melissa Infurna at Powderfinger Promotions: melissa(at)powderfingerpromo(dot)com.
Powderfinger Promotions–Independent Radio Promotion and Publicity. Since being founded in October 1994, Powderfinger has come to be regarded as a top indie radio promotion and publicity firm with ties across North America.