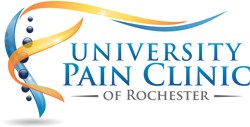 Dr. Bertram offers both medical and interventional pain management with extremely high success rates for pain relief!
Rochester, Michigan (PRWEB) February 05, 2014
University Pain Clinic of Rochester is now open and accepting patients with a Board Certified pain management doctor, Dr. Spencer Bertram. The Rochester Hills pain management clinic offers comprehensive treatments with individualized care to maximize successful outcomes. Call (248) 651-7246 for more information and scheduling.
The Rochester pain clinic offers therapies for over 25 conditions, spanning back and neck pain, RSD, fibromyalgia, sciatica, failed back surgery, arthritis, headaches, scoliosis, spinal stenosis and much more. Treatment options are extensive, including cutting edge therapies such as radiofrequency ablation, spinal cord stimulator implants, several types of epidural injections, joint injections and a full array of nerve blocks.
With over one third of America suffering from chronic pain, there have been significant advances over the past decade developing more effective treatments for relief. Dr. Bertram is trained in the most contemporary options and is able to offer the treatments in a low risk, outpatient setting. Some of the treatments, such as radiofrequency ablation, may be able to provide over a year of consistent neck or back pain relief!
Dr. Bertram is a highly qualified pain doctor, having performed Fellowship training in pain at the University of Michigan and achieving Double Board Certification with both anesthesia and pain management. Success rates at University Pain Clinic are very high due to the individualized treatments provided.
The pain clinic in Rochester Hills is currently accepting new patients. Over ten insurances are accepted including BCBS, Medicare, Medicaid, personal injury liens, workers compensation and more PPO plans. Call (248) 651-7246 for more information and scheduling with pain management Rochester Hills trusts.