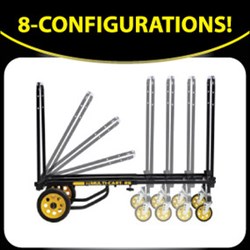 Rock-n-Roller Multi-Cart 8-in1 Equipment Transporters are vastly superior to any utility cart, foldable cart, handtruck, or convertible cart for moving equipment in the field.
Issaquah, WA (PRWEB) September 17, 2013
TheHardwareCity.com is known for providing the most innovative products at reasonable prices. They are now selling an innovative and versatile cart, the Rock-n-Roller Multi-Cart. The equipment transporter is foldable and transformable yet durable enough for a large load. It exhibits design and technology characteristics that are found in many of the products supplied by TheHardwareCity.com.
Rock-n-Roller Multi-Cart is the winner of the accessory of the year awards and has been described as an outstanding design in college engineering textbooks. This speaks to the status of products sold through TheHardwareCity.com. Because this superior equipment cart is now offered through the website, the product can be delivered to any customer. Customers of TheHardwareCity.com are guaranteed the best service. Representatives of the company offer their knowledge and expertise for choosing the right tools or equipment for any project or task. Live chat is available throughout the week to assist customers and answer questions about any product.
The new cart sold by TheHardwareCity.com is designed with many features. It transforms into eight differing configurations, making it practical for varying tasks. There are numerous accessories available for use with the cart. The R-Trac tires included on the cart provide excellent traction. The body of the cart is expandable, allowing the user to adjust it so it becomes size appropriate for its use. Construction of the cart consists of powder coated steel, which creates traction, and the frame bed is skid-resistant. Castor breaks are designed into the cart, allowing users to load the cart without fear of it rolling away. When the cart is not in use, it can be folded to a small size, which makes it store perfectly.
TheHardwareCity.com offers the Rock-n-Roller Multi Cart and other great tools, hardware, and equipment through their user-friendly website. The site displays photos of each product along with specifications, creating an approachable online shopping experience. To view the quality products offered on their website, including the innovative equipment transporter, visit http://www.thehardwarecity.com.
About TheHardwareCity.com:
Quality service and merchandise has been supplied by TheHardwareCity.com since 2007. As one of the largest online retailers of tools and hardware, they supply products for every kind of home and garden project including building supplies, electrical, plumbing, heating, painting, lawn and garden, and more. The tool experts at http://www.thehardwarecity.com are ready to assist in selecting the right tool or equipment for any project.