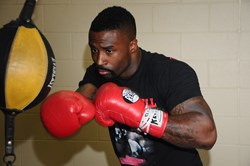 I'll be the greatest athlete from my city, not because of my achievements but because I'm going to do God's work.
Hollywood, California (PRWEB) February 22, 2014
By: Dwight T. Williams -- Celebrity Sports Writer
If you've seen light-heavy weight Rock Blackwell fight, it's easy to understand why boxing insiders and fans alike are so high on him and consider him a surefire future world champion. The talent is clear; power, Philly shell defense and insanely fast hands -- maybe the quickest in the light heavy weight division. Then just take a look at his amateur background; more than 120 wins, against only 28 losses, winning the South Atlantic Championship.
With 2014 kicking off, a new chapter has arrived in the career of the boxer from Baltimore. The World Boxing Union (WBU) named Blackwell the number one contender for their America's light-heavy weight championship belt in the latest ranking's released this weekend. The boxing phenom Rock Blackwell has become the latest chapter in the history of boxing in Baltimore, becoming the seventh fighter from the charm city to advance to championship status. While a long way from the likes of Pettway and Rahman before him, a new era has begun for Baltimore's latest future great.
But as outstanding as his amateur career was, and as good as he has looks as a professional, questions have arisen about his delay to challenge for a title. "I'm satisfied with the way my career is going and at the pace it's going," Blackwell said. "I refuse to listen to anybody who says anything negative about it. I think in a couple more fights, I'll be ready to fight for the America's title."
Blackwell has signed a 10 fight deal with the World Boxing Union, 5 of which will be title fight's including a shot at the championship of the world.