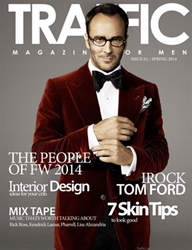 Rock Blackwell has been steadily rising in popularity and notoriety as one of the best light-heavy weight's in the division.
Los Angeles, CA (PRWEB) April 08, 2014
Baltimore, Maryland boxing star Rock Blackwell has landed a special section and featured interview in Traffic Magazine. Since opening the eyes of boxing fans around the world with dominant performances, Rock has been steadily rising in popularity and notoriety as one of the best light-heavy weights in the division. On March 5th, 2014 the WBU ranked Blackwell the number one light-heavy weight in the country and 10th in the world.
At just 27 years of age, Blackwell has a bright future ahead of him and a lot of hype to live up to. The thing about Rock though, he has created the hype with how hard he has worked, and lives to meet the challenge each and every day on both sides of the ring. The special section (PG. 42-43) spotlights Rock's past, what it take's to become a boxing champion, past obstacle's he had to overcome and more.
Purchase your copy at local stores or order online at: http://www.magcloud.com/webviewer/727901?__r=40627&s=w
Question and Answer with boxing blue chip "Rock Blackwell"
TR: Hello champ, how are you today?
RB: Doing great, working hard as usual.
TR: How does it feel to be ranked by the WBU as top light heavy weight in country?
RB: It's an amazing feeling but it also humble's me. I owe God all the glory because it wasn't my hand who opened the doors. I worked hard and prepared the temple but God's power made this possible.
TR: Wow, word's of a true champion. What's a typical day like for Rock Blackwell?
RB: Well...training, chipotle, and more training (laughs).
TR: Wow, that's amazing. Do you ever get tired of boxing or working out?
RB: Absolutely! You have day's you feel great, day's you feel good, and day's you feel bad. But you have to put the work in regardless to how you feel. Boxing demand's that you make a vow, that come hail or high water you will pay the price to be great.
TR: Would it be safe to say that boxer's have a special ability about them, almost like you guy's are super human.
RB: I agree, it's the only craft that teaches a man how to combine mind, body, heart and soul.
TR: Every boxer fight's for a cause, what drives you to be a champion?
RB: Great question, I desire to make good on all that God has invested in me. Not to mention, I want freedom and to be able to be a blessing to other's. Boxing isn't about win's and losses, it's about the power of one to move million's.
TR: Incredible champ! you seem to be wise beyond your years. What inspired you to perceive the world the way you do?
RB: I'm a student of life and was born a leader, God put leadership in my veins.
TR: It's is such a treat to speak with you champ, congratulation's on the magazine and thank you so much for taking time out to allow me to interview you. You are truly a symbol for greatness.
RB: Thank you, it's a pleasure and honor speaking with you as well. Looking forward to talking with you again in the future.
TR: before you leave, How can the fan's reach you champ?
RB: Follow me on Instagram @RockBlackwell
Terry Richards
Celebrity News
Los Angeles, California