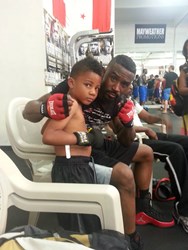 Rock Blackwell is symbol of hard work and drum major for success
Las Vegas, Nevada (PRWEB) November 14, 2013
Baltimore is dubbed "The City Of Struggle" and is nicked named "Charm City" due to it's high rate in murder, drugs, robberies and lack of opportunity. Baltimore is the heroin capital of the United States, government agencies estimate that as many as one in ten of the city's residents are addicted to the drug. But in the fall of 86, a drum major for change was born.
Rock Blackwell was born on November 22nd, 1986 in Baltimore, Maryland USA. Abandoned by his father after birth, the boxer was raised solely by his mother and forced to face the typical struggles the streets of Baltimore offer. Rock became a student of the sweet science at the tender age of seven, compiling an impressive amateur record of 156-28, winning the South Atlantic Championship.
Blackwell's one blemish on his professional career occurred in May 2009 when poor management and preparation led him to life threatening levels of dehydration and a significant right hand injury. Dropping over 30 pounds of water weight and pure muscle to make a 154 weight limit, Blackwell overcame foolish guidance to reinvigorate his career.
Following in the footsteps of Floyd Mayweather Jr. and Manny Pacquiao, Blackwell's fast, hard hitting style has taken the light heavyweight to the road of future stardom. He is truly a force to be reckoned with in his weight class, his constant reinvention and ring activity has turned Blackwell into an extremely exciting fighter to watch.
Blackwell's reputation is based not only off of his explosive speed and punching power, but largely due to his Philly shell style & boxing prowess. His unique combination of breathtaking speed and in-ring comfort with devastating punching power has led to many observers to peg him as a star on the rise.
The Beverley Hill's Courier ranked Blackwell as possibly the greatest athlete bred from "the city of struggle" ever. Aside from being a future boxing champion, Blackwell is considered by many as one of the greatest influential athlete's from Baltimore. When asked about his formula for success, Rock often says "Jesus Christ first, faith, and a sick work ethic."
Rock Blackwell is a pioneer for young individuals who seeks success in life, respect for others, and is a symbol of dedication and hard work. The future champion is working with youth leader's around the world to help inspire young adults and rebuild our communities. Let's all support him as one nation as he fight's to become champion of the world and a leader among men.