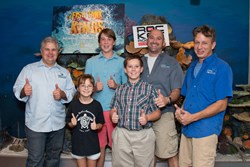 The depth of knowledge, curiosity, and innovative 'design thinking' demonstrated by Rocket21 members and their contest entries was inspiring to our entire team, said Mat Roy, President, Living Color.
San Francisco, CA and Washington, D.C. (PRWEB) October 31, 2013
Rocket21, today announced the winners of the company's latest Dream Big Competition, in collaboration with Nat Geo WILD's popular series, Fish Tank Kings.
Nat Geo WILD's popular series Fish Tank Kings (Returns Spring 2014 to Nat Geo WILD) takes viewers to the center of the action as the Florida-based aquarium specialists at Living Color use their unparalleled skills, creativity and teamwork to pull off the most extreme tanks. For the past several months, the Fish Tank Kings gang has been sharing their aquatic knowledge and design experience directly with kids through Living Color President Mat Roy, an official PRO on Rocket21.
To celebrate Fish Tank Kings' participation, Rocket21 invited youth members to share their deas and designs for extreme aquarium projects. From aquarium theme parks to aquarium skateboard ramps to aquarium furniture and vehicles, Rocket21 members from 9-17 submitted a diverse range of innovative designs.
Three designs were selected for Grand Prizes and Special Recognition, earning their creators a trip to Fort Lauderdale, Florida for a private tour of Living Color Enterprises hosted by The Fish Tank Kings, lunch next to a 14,000 gallon Fish Tank Kings' Aquarium at the Rainforest Café, and a nighttime boat tour of the Everglades to learn about its unique wildlife and habitats.
The competition was intense, as acknowledged by Living Color President Mat Roy. Said Roy, "The depth of knowledge, curiosity, and innovative 'design thinking' demonstrated by Rocket21 members and their contest entries was inspiring to our entire team. We had an extraordinary day with Cori, Tommy and Benjamin. We look forward to engaging with even more young aquarists on Rocket21."
In the Under 13 Group, Grand Prize recognition went to 9 year-old Cori McWilliams for her "Welcome To Florida" aquarium design for a marquis installation at a Florida Visitors' Center or airport, to celebrate Florida water habitats. Cori is a 4th grader at Liberty Magnet Elementary School in Vero Beach, Florida. Cori noted, "Rocket21, Nat Geo WILD and Living Color made this the best day ever! What an awesome experience and a dream come true."
To watch Cori's winning video click here.
For the 13-17 Category, 14 year old Tommy Whiteley, a 9th grader at Fairfield Country Day School in Fairfield, Connecticut, was selected for his creative idea to build a planetarium-style aquarium. Whiteley's design featured bioluminescent creatures presented in a pitch black viewing dome to make the world's deep ocean ecosystems accessible to the general public. Tommy offered, "My experience with the Fish Tank Kings is one I will remember for a lifetime. Not only was it amazing to see the process used to create a tank, but to be shown the whole process by the Fish Tank Kings themselves was absolutely incredible!"
For more about Whiteley's Planetarium Aquarium, click here.
As an extra surprise, Rocket21 awarded a Special Recognition Award to 11 year-old Benjamin Woodard, for his poignant design for a 911 Memorial Aquarium. Benjamin's memorial tank design featured a one million gallon, 700 foot tall cylinder memorial including a different fish representing each of the 911 victims, set atop a non-toxic red, white and blue acrylic reef base. Benjamin is a 5th grader at Lee Woodard Elementary School in Lucama, North Carolina. Benjamin added, "Today has been the greatest day ever and a dream come true! Thank you Rocket21, Nat Geo WILD, and the Fish Tank Kings!"
For more on Benjamin's 911 Memorial Aquarium, click here.
###
About Nat Geo WILD
For more than 30 years, National Geographic has been the leader in wildlife programming. The networks Nat Geo WILD and Nat Geo WILD HD, launched in 2010, offer intimate encounters with nature's ferocious fighters and gentle creatures of land, sea and air that draw upon the cutting-edge work of the many explorers, filmmakers and scientists of the National Geographic Society. Part of the National Geographic Channels US, based in Washington, D.C., the networks are a joint venture between National Geographic and Fox Cable Networks. In 2001, National Geographic Channel (NGC) debuted, and 10 years later, Spanish-language network Nat Geo Mundo was unveiled. The Channels have carriage with all of the nation's major cable, telco and satellite television providers, with Nat Geo WILD currently available in 56 million U.S. homes. Globally, Nat Geo WILD is available in more than 100 million homes in 90 countries and 28 languages. For more information, visit http://www.natgeowild.com.
About Rocket21
Rocket21 is the only social networking platform designed to safely connect kids and teens with professionals and experts representing industries, professions, passions, and movements that span the globe. Rocket21 provides unprecedented access to world-class experts and organizations while protecting them with a combination of state-of-the-art, real-time filtering and human moderation, extensive safety and security precautions, and a specialized infrastructure designed to keep kids safe.
Like Rocket21 on Facebook and follow @Rocket21 on Twitter and visit Rocket21 on Pinterest. For more information contact Media Relations at media(at)rocket21(dot)com.