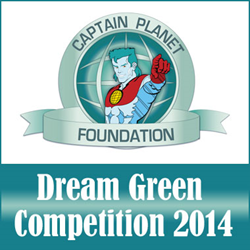 Our Dream Green competition brings an incredible experience for our winners. They'll remember this weekend fifty years from now, said Jodell Seagrave, Rocket21 President & COO.
San Francisco, CA and Atlanta, GA (PRWEB) November 24, 2014
Rocket21™ (the new social network where kids explore amazing possibilities for their lives and futures) and the Captain Planet Foundation (supporting hands-on environmental projects for children and youth) are announcing the final week of submissions in their contest to increase awareness of green careers and sustainable lifestyle choices among GenerationZ youth.
The promotion is a part of Rocket21's Dream Here Dream Big Series – and four passionate students (along with a parent) will win an unforgettable weekend of eco-activities. Winners will attend the Captain Planet Foundation Gala in Atlanta, honoring Awardees Dr. Jane Goodall, Dr. Marshall Shepherd, Carter & Olivia Ries, and including Special Guest Larry King. Students will attend an invite-only CNN press briefing, visit The Georgia Aquarium, and participate in a VIP event with Dr. Goodall at Zoo Atlanta. Click here for more details. Deadline for entries is November 28th.
"Rocket21 is about supporting all kids' dreams, every single day. But we are also scanning the globe 24/7 for once-in-a-lifetime opportunities to inspire our members' imaginations and extend their passions. Our Dream Green promotion is one of those opportunities. Our winners will remember this experience fifty years from now," said Rocket21 President and COO Jodell Seagrave. "Our partnership with Captain Planet Foundation brings direct access to world-class environmental experts for our members, and this competition is an exciting enhancement."
Hundreds of experts from hundreds of fields are participating as Rocket21 PROs. They include explorers, artists, ecologists, business executives, entertainers, scientists, engineers, nurses, doctors, educators, and more – people who do some of the amazing things kids dream of doing.
Through midnight on Friday, November 28th, Rocket21 student members will have the opportunity to share their ideas for how to reduce air pollution, keep drinking water clean, help keep oceans and its habitat safe, conserve energy, or other ways to protect the planet. In an effort to connect kids' big ideas with personal responsibilities, participants are also asked to share ways in which their daily activities contribute to conservation and stewardship of the planet. Taking into consideration the different ways in which kids express themselves, there are four ways to enter the contest – writing, art, photos, or videos.
Executives and board members from Captain Planet Foundation and Rocket21 will serve as judges. Deadline for entries is November 28th.
###
About Rocket21
Rocket21 provides unprecedented access to world-class experts and organizations while protecting them with a combination of state-of-the-art, real-time filtering and human moderation, extensive safety and security precautions, and a specialized infrastructure designed to keep kids safe.
Like Rocket21 on Facebook and Follow @Rocket21 on Twitter. For more information about Rocket21, please contact Media Relations at media(at)rocket21(dot)com.
###
About Captain Planet Foundation
Based on the critically-acclaimed cartoon series, Captain Planet and the Planeteers, the Captain Planet Foundation (CPF) was co-founded in 1991 by Ted Turner and Barbara Pyle. The mission of CPF is to give the next generation of environmental stewards an active understanding and love for the natural world in which they live. Our unique program of funding and supporting hands-on environmental projects is designed to encourage innovative initiatives that inspire and empower children and youth around the world as they work individually and collectively creating environmental solutions in their homes, schools and communities. For more information on the Foundation, call 404-522-4270 or visit http://www.captainplanetfdn.org.