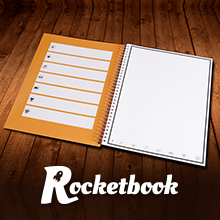 I can't wait for everyone to hear about Rocketbook and how it will seamlessly integrate handwritten notes with cloud technology and online organization.
Boston, MA (PRWEB) March 05, 2015
Rocketbook is the easiest way for people who prefer handwritten notes to also enjoy the ease and convenience of organized cloud storage. Joe Lemay, the CEO of Rocket Innovations, announced his newest product yesterday at Launch Festival in San Francisco, California. Rocketbook is now live on Indiegogo with a funding goal of $20,000 to assist in mass production and distribution.
Rocketbook is a simple paper notebook that, with the help of an iOS app, quickly and accurately captures images of the pages and files them in cloud storage. The microwave safe pages are also compatible with off the shelf Pilot FriXion heat-sensitive pens. This allows users to reuse a Rocketbook by erasing it in a microwave oven. The Rocketbook is being offered in an 8 ½" x 11" in size with a dot grid pattern. The unique page design also allows for the images to be immediately sorted and saved into the appropriate cloud folder or hosting software by simply shading printed icons.
All version of the Rocketbook are compatible with the Rocketbook app, which currently runs on iOS devices, and allows users to easily capture the content of the notebook pages and upload it to the cloud in an organized manner. Using advanced image capture technology, the app can quickly and clearly upload the content of your Rocketbook pages and sort it using the designated icons. These images can be sorted and filed in Google Docs, Evernote, Dropbox and more.
"I couldn't be more excited about premiering Rocketbook at Launch Festival," said Joe Lemay. "It's such an amazing experience and supportive environment. I can't wait for everyone to hear about Rocketbook and how it will seamlessly integrate handwritten notes with cloud technology and online organization."
Launch Festival is an annual event that presents new products, companies and entrepreneurs to an extensive network of media outlets, established entrepreneurs and potential investors. Speakers at the event include Jeff Weiner, CEO of LinkedIn, Yancey Strickler, CEO and co-founder of Kickstarter, and Naval Ravikant, co-founder of AngelList. The three-day conference serves as a coming-out platform for many new products, among which was Rocketbook.
Rocketbook is currently funding on Indiegogo and offers rewards for pledges ranging from $1 to $60. Special early bird contributors can take advantage of discount prices while they last. To learn more about Rocketbook and Joe Lemay, visit the Indiegogo page or contact mary(at)rocketboard(dot)it.
ROCKET INNOVATIONS
Joe Lemay started Rocket Innovations with a simple idea; to allow people who love low-tech pen and paper to be able to keep up with all of the high-tech organizational technology. Rocket Innovation's mission is to help others get ideas out of their heads and collaborate, without technology getting in the way. Rocketbook was created to bring the best of both worlds together and make the integration of pen and paper with technology as easy as possible. To learn more visit http://www.rocketboard.it/.