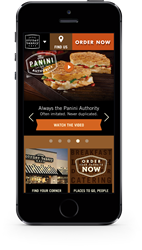 The technology Rockfish employed to fuel the site is extraordinary, and the creative overlay makes it refreshingly user-friendly.
Dallas, Texas (PRWEB) October 28, 2013
Rockfish is proud to announce the launch of its client Corner Bakery Cafe's new website, CornerBakeryCafe.com.
The fully responsive site allows users to seamlessly interact with the Corner Bakery Cafe content across desktop, tablet and mobile devices. Guests will experience the site's rich interactive experience regardless of where or how they access the site.
A first for the fast-casual category, the Corner Bakery Cafe site provides an integrated user experience that–unlike some competitors' sites–does not require multiple clicks. The site marries important nutrition, menu and ordering information into a single, interactive view, so guests can make informed decisions quickly and easily.
The site is highly interactive throughout, with such integrated features as:

A browsable menu with large, colorful images and detailed nutritional information
A filter option that allows users to search based on dietary needs, including vegan, vegetarian, low fat and gluten-free
A calorie range selector that lets users set their own limits to find the right meal, and a nutritional calculator that keeps tally as users add to an order
A location finder front and center on the mobile and tablet versions of the site, so users can find a nearby Cafe and order before arrival
Easy social sharing capabilities so users can share favorite menu items with friends via Twitter, Facebook and Pinterest
The trademark branding of the Cafe, evident through a fresh, friendly tone in the content and design, marrying the in-store experience to the new website
Rockfish leveraged the complete Microsoft tech stack to create a solution capable of driving the Corner Bakery Cafe brand to the next level. Using Kentico (.Net CMS), Microsoft Azure (cloud-hosting architecture), and Windows Server 2012, Rockfish was able to deliver an experience far above what Corner Bakery Cafe competitors currently offer.
"We wanted to create a digital environment as inviting and welcome as the Cafes," says Dawn Maire, Chief Strategy Officer for Rockfish. "The new Corner Bakery Cafe site proves the brand's commitment to its guests. The technology Rockfish employed to fuel the site is extraordinary, and the creative overlay makes it refreshingly user-friendly. We are thrilled at the outcome of our partnership with Corner Bakery Cafe."
The project is an important step in Corner Bakery Cafe's rapid growth, part of its goal to more than double its U.S. footprint in the next three to four years.
"Rockfish is a natural choice for Corner Bakery Cafe as we seek to build a digital experience that fits our guests' on-the-go lifestyles," says Diana Hovey, Chief Marketing Officer, Corner Bakery Cafe. "The new website's beautiful and responsive design is engaging and simple to use, whether you are in your car, at work or at home. This tool will help us scale into new markets while retaining our ever-important branding and top-notch guest experience."
About Rockfish
Rockfish is a full-service digital innovation partner that drives business for some of the world's largest brands. We build groundbreaking digital solutions through expert integration of strategy, creative and technology. Founded in 2006, Rockfish has offices in Dallas, Austin, Cincinnati, Atlanta, Northwest Arkansas, Portland and Chicago. Rockfish is part of WPP, the world leader in communications services with 165,000 employees in 110 countries. For more information, visit RockfishDigital.com and find us on Facebook and Twitter.
About Corner Bakery Cafe
Corner Bakery Cafe is a fast-casual restaurant serving breakfast, lunch and dinner to guests in Arizona, California, Colorado, Florida, Georgia, Illinois, Maryland, Mississippi, New Jersey, New York, Pennsylvania, Texas, Utah, Virginia and Washington, D.C. Established in 1991, Corner Bakery Cafe restaurants are owned and operated by CBC Restaurant Corp., with more than 150 company-owned and franchised locations around the country. Founded on a philosophy of creating a place for people to relax and gather with family and friends, Corner Bakery Cafe features innovative, seasonal menu options while delivering a premier bakery cafe experience in the heart of neighborhoods everywhere. For more information, visit http://www.CornerBakeryCafe.com.