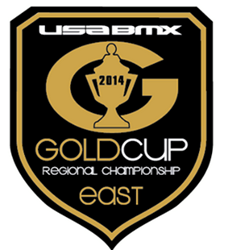 We're extremely excited to see many of the top Pros from around the World - and 2012 Olympians, take on the big 16 and a half foot tall starting hill in Rock Hill.
Rock Hill, SC (PRWEB) October 10, 2014
BMX history is about to be made this weekend in Rock Hill, South Carolina, as Novant Health BMX Supercross plays host to the first of many major BMX competitions - the USA BMX Gold Cup Championships East, presented by Dk Bicycles.
Top Pros and Olympians will be joining over 1,000 amateur racers - ranging in age from 2 to 70-plus, from over 30 states, to compete in the Gold Cup Championships East. While the pros will be competing for their share of the pro purse and points for the national championship title, all of the amateurs are racing for the title of Gold Cup Champion. The top three finalists in Gold Cup points will earn a No.1, No.2 or No.3 numberplate, and the winner will be awarded a custom Gold Cup Championship jacket.
Competitors from the Olympic Games will be participating on Novant Health's Olympic-sized starting hill, which measures 10 meters high. The Novant Health BMX Supercross track was designed to challenge the fastest racers from around the World. Among those in attendance this weekend will be the 2-time Mens Olympic Gold medalist Maris Strombergs, who hails from Latvia but now calls Southern California his home. Maris is currently in a tight battle with the 2012 Olympic silver medalist and reigning USA BMX No.1 champ, Sam Willoughby - from Australia. So far this year, Willoughby has won 8 of his 12 main events he has raced - and is determined to earn his third straight No.1 Pro title. Wins on either day, by either Olympian, will help in their quest to earn the USA BMX No.1 Pro title in November.
Before Pro and amateur racing begins on Saturday morning, the competition kicks off at 11:30 with the Strider "push" bike class - filled with 2, 3, and 4 year olds. BMX Racing is truly a sport for kids of all ages, and it's an incredible contrast seeing 2 year olds on pedal-less balance bikes get their first thrill of cycling, before you watch Olympic-level athletes from around the World fly over obstacles at amazing speeds, one after another.
At the other end of the spectrum, there will be plenty of parents (and even some grandparents) competing in the larger-wheeled classes for 30, 40, 50 and 60+ year olds. This is a huge part of what makes BMX racing a true Family sport - where moms and dads get to participate along with their children.
Next year, the Novant Health BMX facility is scheduled to host the USA BMX Carolina Nationals - March 20-22nd, and looking forward to 2017 they will host the UCi World Championships.
Thanks in part to the exposure of the Olympics, along with the age of 2nd and 3rd generations of racer's getting their kids involved in the sport they grew up in, BMX racing continues to grow in numbers and popularity with today's youth. USA BMX Racing is an exciting activity for folks of all ages - as bicycle riders compete against others their own age and skill level.
Schedule for Gold Cup Championships East - presented by DK:
The USA BMX Gold Cup Championships East, presented by Dk Bicycles, will be held October 10 - 12th, 2014. Spectating is free - but there will be a $10 per day charge for parking. Novant Health BMX is located at 1307 Riverwalk Parkway, Rock Hill, SC.
Friday: Action begins on Friday at noon with practice throughout the day and racing starting at 5pm.
Saturday: Practice continues in the morning and National racing kicks off promptly at 11:30am with Strider (balance bike) racing for 2, 3 and 4 year olds - followed by Pro athletes on the "big hill."
Sunday: Amateur and Pro racing continues - kicking off at 8:00am, with the main events starting at approx.10:30am.
About Novant Health BMX: Novant Health BMX Supercross has scheduled regular races for the public every Friday evening, where local bike riders of all ages - as young as 2 years old and up to 60+, can enjoy competing on this World class facility, on a weekly basis.
For a schedule and race times, go to: http://cityofrockhill.com/departments/parks-recreation-tourism/parks-facilities/novant-health-bmx-supercross-track/novant-health-bmx-supercross-track-calendar
About USA BMX: The American Bicycle Association (ABA) was formed in 1977 and is headquartered in Gilbert, Arizona. USA BMX organizes BMX racing for boys, girls and adults, throughout the United States, Canada, and Puerto Rico. With over 70,000 active members who compete on a weekly basis at over 370 racing facilities in 48 states, the Olympic sport of BMX Racing continues to grow. USA BMX, with a 29 event national race schedule, is the largest promoter of action sports in the country.