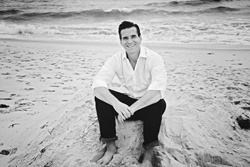 Our community of loyal customers and supporters has been a true inspiration to me and everyone involved with Rockin' Wellness. We've worked so hard and come such a long way. I'm really excited about what's next for us. Seth Luker, Founder
Hauppauge, New York (PRWEB) October 11, 2016
Rockin' Wellness (http://www.rockinwellness.com) celebrates 5 years in business and the future looks bright for this exciting Long Island based brand. Rockin' Wellness has come a long way in 5 years. From its humble beginnings in a small commercial kitchen, to a thriving business with millions of followers and tens of thousands of customers, Rockin' Wellness created a new genre of health shake. Its dynamic team is also rapidly carving an entrepreneurial niche that is raising the bar for emerging 21st century businesses.
In 2011, Seth Luker founded Rockin' Wellness having set out to create the ultimate superfood smoothie mix that would support his nutritional intake throughout his personal battle against stage 4 digestive cancer; which he has actively fought since 2005. At the time there was nothing on the market that provided the nutritional balance or premium superfood ingredients that he needed; and certainly nothing that was affordable for daily consumption. His quest to support his personal health journey resulted in the creation of the original, superfood health shake. It was ground breaking then and is still unmatched in quality today.
"I'm so proud of how far we have taken Rockin' Wellness. Our community of loyal customers and supporters has been a true inspiration to me and everyone involved with Rockin' Wellness. We've worked so hard and come such a long way. I'm really excited about what's next for us. We have an amazing team in place and there's really no limit to where we can take this." Commented Seth Luker, Founder, CEO and Wellness Warrior.
With over 2 million Facebook followers, Rockin' Wellness is set for dramatic growth in the coming years. To celebrate its 5 Year Anniversary, the company will be launching a series of special offers and promotions throughout the remainder of. To access these exciting promotions, consumers should visit the company's website http://www.rockinwellness.com and enter their email address to receive these unique limited time offers.
Rockin' Wellness
Founded in 2011 by Seth Luker, Rockin' Wellness produces whole body, nutritional superfood smoothie and tea blends that are manufactured on Long Island, New York and shipped throughout North America. Rockin' Wellness' mission is to bring natural health to the forefront of the general public through education and premium nutritional products that surpass today's highest-quality standards at an affordable price.
With the healthiest lifestyle in mind, Rockin' Wellness created an energizing superfood mix that has helped tens of thousands of people maintain and regain optimal health. Rockin' Wellness is a great tasting, easy-to-make superfood mix that focuses on pure plant based nutrition that support the body's systems as a whole.
Non-GMO
Certified Vegan
Dairy Free
Gluten Free
Superfoods & Omegas
For ordering information please visit http://www.rockinwellness.com or call (855) 876-2593