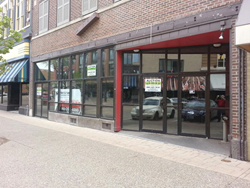 Rock Island, IL (PRWEB) August 14, 2014
Though the two-story nightclub building at 1712 & 1718-1720 2nd Ave in Rock Island, IL (zip: 61201) may be the location of the former Funnybone Comedy Club, the value packed into the property is hardly a laughing matter -- and after Micoley.com's August 23rd auction, it will most likely vanish from the view of prospective purchasers. Those interested in acquiring a piece of restaurant, bar, or nightclub property are encouraged to look into this potentially high-income-generating building. This building also has great potential for renovations into any investor's dream.
Located in downtown Rock Island, the building features (per an appraiser) 5,930 square feet on the first floor and 6,000 square feet on the second, with full open bar space consisting of two bars per floor. The property also boasts a full basement, an elevator, and a large walk-in cooler. The property is listed at $265,000 with an opening bid of $175,000 if no offer is received before the auction on August 23.
Rock Island currently has a population of about 40,000, and is one of the Quad Cities on the Illinois/Iowa border along with Moline and East Moline in Illinois and Davenport and Bettendorf in Iowa. Together, the five cities form a metropolitan area of around 380,000 people. Rock Island was also featured in the beginning of the Academy Award-winning, Depression-era crime film Road to Perdition (2002), starring Tom Hanks, Jude Law, and Paul Newman.
This property has a motivated, high-energy seller entertaining early bids, meaning that although it goes up for auction on August 23, it may very well sell before that date arrives. Potential buyers would be well advised to begin researching as soon as possible if this property piques their interest. Indeed, this property, along with the full spread of offerings -- which also include residential homes and vacant land -- can be viewed by visiting micoley.com.
Interested parties should visit micoley.com to find photos and details about the property, or by visiting in person and performing an inspection on site, which is highly recommended. 1-866-371-3619 is Micoley.com's information line. Additionally, Micoley.com features a live chat service through which questions can be answered.
About Micoley.com:
Green Bay, Wisconsin-based Micoley.com is a real estate marketing firm specializing in project focused auctions of bank-owned properties throughout the United States. The Micoley.com approach to real estate marketing tailors each auction plan to the client's individual needs. The site is constantly being updated for the benefit of buyers, as large-scale auction events are held monthly, and new properties are added daily. Broker Firm: Micoley.com LLC #481.011994. Broker: Amy Wick #471.013801.