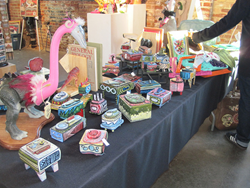 Rock N Roll Craft Show is the original alternative craft and music event in St. Louis! Since 2005, the organizers of Rock N Roll Craft Show have been gathering the craftiest artists and the rockinest musicians for one great weekend-long event!
Saint Louis, Missouri (PRWEB) November 11, 2014
At RRCS11, on display, next-generation handmade items from locally- and nationally-known crafters and artists, bands and DJs, Sock Monkey appearances, and more. RRCS 11 will also feature an additional music showcase Saturday night at 2720 Cherokee, with some of our favorite local bands. The handmade items alongside live music will make Cherokee Street rock and roll over Thanksgiving weekend.
What: 11th annual Rock and Roll Craft Show
Where: The Luminary Arts Center – 2701 Cherokee St.
When: Friday, November 28th 10am – 4:00pm ($10 entry fee) Saturday, November 29th 10am – 6:00pm ($3 entry fee)
Sunday, November 30th 10am – 4:00pm ($3 entry fee)
On Friday November 28th, RRCS 11 kick off with a VIP event from 10:00 am – 4:00 pm called Red Carpet VIP Friday. Avoid the crowds and get a little VIP treatment! For a $10 entry fee, VIP guests will not only have first access to the event and first pick of the unique handcrafted items, and will also enjoy smaller crowds, free giveaways, and be eligible for door prizes from our generous sponsors, including gift certificates to local eateries and watering holes, gift bags and baskets from local businesses, and more! All who enter on VIP day are eligible for the hourly drawings (several door prizes are awarded per hour - the odds are good for anyone to win). Plus, the first 100 VIPs through the checkout line will receive a reusable RRCS tote bag full of goodies. Red Carpet VIP Friday is the chance to have the red carpet rolled out on the busiest day of the year.
RRCS will continue through the weekend (Saturday November 29th and Sunday November 30th). For a $3 entry fee, shoppers and rockers will have access to the handmade wares, live music/DJs, DIY opportunities, photo button booth, and more!
History of RRCS: The Rock N Roll Craft Show was started in 2005 by a group of crafty friends who simply wanted to provide a venue for themselves and others to showcase and sell original work. Rather than compete with the quilt-filled more traditional craft shows, the organizers of the Rock N Roll Craft Show aim to capture the energy of this generation's DIY-ers.
Since the humble beginning, a five-hour event featuring a mere 50 vendors and drawing a crowd of 500, RRCS has grown by leaps and bounds over the past 10 events to become a weekend-long event featuring more than 120 crafters, dozens of live bands, food, drinks, crowds of more than 4000, and through local and national press, earning recognition as St. Louis's best alternative craft event!
Rock N Roll Craft Show continues to be a staple in the St. Louis music, art, and craft scene and proves to be the most fun you will have on Thanksgiving weekend. Avoid the malls and get ready for this holiday season by supporting the local arts and rocking out while you're checking off your shopping list!
For more information on RRCS 11, visit http://www.rocknrollcraftshow.com or contact RRCS founding organizer/event director Jessi Cerutti: jessi(at)rocknrollcraftshow(dot)com, 314-649-RRCS.