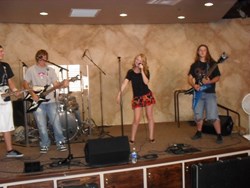 Most kids who want to play rock and roll music are left to figure things out on their own without any help or guidance. That's where we come in and help young musicians form bands and play in real venues.
Glendale, AZ (PRWEB) September 13, 2013
Rock n Roll High School recently partnered with JiveMind Music to add a second location in Glendale, AZ, giving local young musicians in the West Valley area a great opportunity to take their musical interests to the next level.
Structured much like youth sports leagues, Rock n Roll High School provides a safe, educative environment which offers aspiring young musician, ages 19 & under, the chance to play in their own band and perform at major venues in front of their families and friends. According to owner, Steve Berg, he founded the organization to fill a huge hole in the modern musical landscape.
"Most kids who want to play rock and roll music are left to figure things out on their own without any help or guidance," he said. "With youth sports, children have an obvious, structured path toward reaching their individual goals. Contrarily, young musicians have no choice but to meet up with one another and play in garages, usually without any sort of supervision or instruction."
Since he founded his organization, Berg has given countless young musicians the chance to play at major venues, such as the Hard Rock Cafe, Crescent Ballroom, Club Red, and many others. That said, according to Berg, Rock n Roll High School isn't just for the most talented performers; it's for anyone who loves to play music. "We have musicians at all levels, from Elementary through entering College. We also conduct clinics in songwriting, performance and business for the kids who are really serious."
"We group our kids into 3- to 6-person bands based on similar tastes, age and skill levels," he said. "This gives them the chance to learn, make friends and have fun doing what they love most. Unlike some other organizations which only offer musical instruction, however, we give the kids a chance to play in front of crowds at major venues."
Through Rock n Roll High School, kids also get chances to compete for major opportunities. Recently, one of the organization's band, Smokestack, bested 40 other established acts for the right to open for Alice Cooper at Comerica Theatre at his annual Proof is in the Pudding concert.
With these types of impressive achievements in mind, however, Berg says his organization is most interested in giving kids a safe, structured environment to learn and play the music that matters to them.
"Most schools only offer marching and concert band programs, which may not appeal to many kids interested in today's popular music," he said. "We're working with administrators in the Scottsdale and Gilbert districts to provide school-sanctioned workshops and clinics to local students. In the end, kids want to play the music they love, and we want to pull them out of their garages and into a structured, educational system that provides a clear path toward live performances and recording opportunities."
Unfortunately, even with Rock n Roll High School's second location, Berg says he expects enrollment to fill up fast.
"In the near future, we plan to give even more young Arizona musicians opportunities by expanding into other local markets like Scottsdale and Tempe," he said. "Right now, however, we only have so much room; so it's important for parents to get their kids signed up as soon as possible."
"The best way to get a feel for Rock n Roll High School is to come to one of our shows," said Berg.
Rock n Roll High School bands are scheduled to perform at Alice Cooperstown, Hard Rock Cafe, and other venues in September and October. For a calendar of upcoming events go to: See the list of events at: http://rocknrollhighschool.biz/calendar/ or call Steve at 480-206-3149.