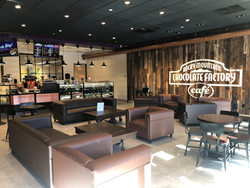 CASTLE ROCK, Colo. (PRWEB) January 26, 2019
Rocky Mountain Chocolate Factory opened its first chocolate café in the U.S. in Castle Rock, Colorado in December.
The Outlets at Castle Rock just got a whole lot more chocolate and a whole lot of love too. The former store, which closed its doors in April of 2018, recently underwent a major facelift, is under new ownership, and now even allows its chocolate lovers to sip on a decadent latte during their visit.
The new and improved Rocky Mountain Chocolate Factory Café in the Outlets at Castle Rock is officially open and ready to serve up creamy truffles, Tiger Butter caramel apples, and richer than rich fudge. On top of these familiar staples, this RMCF store is the first in the country to run with a whole new café concept, one that has done exceptionally well in international markets. They are proudly serving DazBog Coffee, whose Russian heritage is as strong as its Arabica beans. They'll keep you caffeinated all day long, or at least until you need another, to wash down the chocolate-covered Oreo you just enjoyed. One interesting café menu item that is sure to delight guests is called "drinking cacao." Melted chocolate and steamed milk are blended together to create the creamiest, richest hot cocoa around.
Being the first Rocky Mountain Chocolate Factory Café in the United States comes with a lot of pressure for the new owners, but it's a challenge they're definitely up to. "When we were given this opportunity, we absolutely had to take it. It was an easy decision," co-owner Brianna Blaylock said. "We're so passionate about what Rocky does and what they stand for and we can't wait for people to come hang out in the café and see that for themselves."
Recent Castle Rock residents Jacob and Brianna Blaylock couldn't be more excited for this endeavor and they have been hard at work learning the ins and outs of running a chocolate store that doubles as a coffee shop. The Blaylocks, who are both originally from Missouri, have some serious know-how under their belts, as they ran a successful RMCF store in Petaluma, California for over a year before they were approached by the corporate office about the prospect of taking over the store in the Outlets at Castle Rock and pioneering the coffee component as well. They jumped at the chance and packed their bags, ready for a fresh adventure.
Mr. Blaylock's experience in restaurant management, coupled with his first year as a business owner, provided him the on-the-job learning required to take the Castle Rock store on and to do it effectively, with the help of his wife turned business partner. During the renovation process, he and Mrs. Blaylock worked tirelessly, preparing the store for its new life. All of that work over the last few months has finally paid off and they now have a warm, inviting store to show for it. "I am just so excited for our customers to see the store. Getting to know them and providing them with the best experience possible is paramount to me," owner Jacob Blaylock said. "We fell in love with the Castle Rock area and having the privilege of running the first Rocky Mountain Chocolate Factory Café in America has already been such a blessing. We can't wait to see what the future holds."
The store reopened on December 21st, 2018 but its official grand opening is right around the corner, on January 29th. This event will be larger than life, and the Blaylocks are taking that literally, as a 150-lb fudge mountain will be on display. They are also offering a free 12oz coffee with any purchase the entire day of the grand opening!
When it comes down to it, nobody knows chocolate like Rocky Mountain Chocolate Factory. And thanks to this primed and ready location, fit for cozy hangouts and overeating sweets, they are paving the way as an authority on espresso as well. To learn more, you can follow the Rocky Mountain Chocolate Factory Café on Instagram at rmcf_cafe_castle_rock and on their Facebook page at RMCF Castle Rock.
Content by Jourdan Ryan.