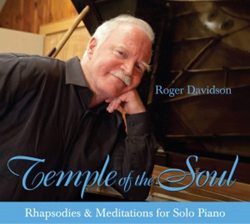 Solo Piano music is not a diversion from his other genres, but rather a forward-moving culmination of his inspirations, lifelong studies, world-wide collaborations, and interest in Sacred Music.
New York, NY (PRWEB) June 10, 2014
Eventually, every serious musician wants to lay down music from the soul, music full of heart and spirit, without technical restraint or genre boundaries. For composer and pianist Roger Davidson, Temple of the Soul: Rhapsodies and Meditations is that album. Produced in New York by Adam Abeshouse and Roger Davidson and executive produced by Pablo Aslan, it was recorded on an impeccably restored Steinway piano from 1876. This, Davidson's first solo piano album, shares a musical and spiritual journey in 12 adventurous and genre-defying musical improvisations.
Soundbrush Records plans public concerts to support the album, including a CD Release Concert at Greenwich Music House's Renee Weiler Concert Hall (part of the Café Vivaldi Series) at 46 Barrow Street, New York, NY, 10014 on Thursday October 9, 2014 at 8 p.m.; tickets range from $15 - $20, and can be purchased at http://www.greenwichhouse.org/announcements/caffe-vivaldi-roger-davidson-cd-release-party. Davidson will also play a concert on December 5, 2014 at St. Ignatius of Antioch Episcopal Church on NYC's upper West Side; exact event details will be updated on the artist's website, at http://www.rogerdavidsonmusic.net.
As Davidson says, music is for the world. At just four-years old, he found sanctuary and joy at the piano, experimenting and improvising with music. As his musicality grew, he discovered the internal and external power of music, and went on to study music with masters around the world.
Though commonly thought of as a classical or jazz artist, Davidson has a fearlessly eclectic reach, both as a composer and pianist, and as founder of the esteemed Society for Universal Sacred Music. It is possible that with the deep spiritual intention behind Temple of the Soul, he will add New Age/Solo Piano to his list of suitable genres, which already include Chamber, Symphonic, Choral, Jazz, Tango, Klezmer, Children's music, Latin and Brazilian.
Commenting on the album, Davidson says that his new solo piano music is not a diversion from his other genres, but rather a forward-moving culmination of his inspirations, lifelong studies, world-wide collaborations, and interest in Sacred Music. The album, he says, is "not just a journey of the spirit; it's an intuitive journey around the world. When you have the right color and the right kind of brush to express a feeling or a quality of life, it instinctively comes up and becomes part of the fabric of each piece."
James Gavin, author of Stormy Weather: The Life of Lena Horne and Deep in a Dream: The Long Night of Chet Baker, shared his insights on the album, writing "The instrument on which he recorded – a beautifully restored 1876 Steinway – gave the music a heightened sense of spanning the ages. The first improvisation, 'Temple of the Soul', felt like the beginning portal into the spiritual journey that this album is. With his left hand, he plays a simple, repetitive ostinato; it gives the piece a prayer-like, chanting quality. His right hand introduces a mood that sounds mysteriously Moroccan or Arabic.
The importance of nature flows throughout the album, Gavin observed. "His music evokes it vividly. 'Ethereal Ocean' is so named because of its ebbing and flowing, gently rocking feeling, while the pentatonic 'Forest Prayer' has a shimmering stillness about it, like that of a sunrise. The playing reaches a surging crescendo, then calm is restored. Roger felt in this piece music 'a spiritual connection to trees, birds and everything in the forest.'"
Seemingly effortlessly, Davidson channels and shares global music influences throughout the album. His love of the French Impressionist composers informs "Fountains of Life" while the Spanish-style grandeur in "Blessing" may remind some listeners of Enrique Granados; "Freedom for All" has a tinge of early African-American spirituals and hymns, while "From the Rising Sun" is based on the scale played on Japan's national instrument, the Koto, a 13-string zither. The chromatic slides and jazz chords of "In the Eye of the Storm" point up its basic serenity, and hints of Casbah infuse the exotic "Journey of Wisdom." The final piece "Waves of Reflection" offers Davidson's reflection on life, on the spirit, on communing with the divine in all creation.
Certainly one of Gavin's most insightful comments on the album points out that spiritual journeys are not always easy, as can be sensed in "Journey of Wisdom."
"Roger's intense playing suggests a difficult and far-off road to enlightenment," he writes. "Many of the answers may be beyond our grasp, but in Roger's music, one can hear a continued striving for wisdom."
Temple of the Soul (Soundbrush Records, 2014) is available at traditional and online music stores; it is distributed by Allegro Media Group and The Orchard. For media requests and review copies, please contact publicist Beth Ann Hilton, The B Company, at 310-560-8390. For general information, contact Soundbrush Records at 718-435-2264 or visit http://www.soundbrush.com.
Links:
Official Website: www(dot)rogerdavidsonmusic.net
Album info: www(dot)temple-of-the-soul.com
Society for Universal Sacred Music: www(dot)universalsacredmusic.org/
Soundbrush Records: www(dot)soundbrush.com