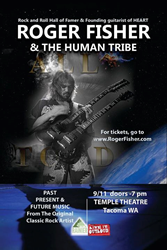 "Roger Fisher's pivotal hard rock thrusting intro to "Barracuda" will forever be glorified in rock and roll history." - Ray Shasko Examiner.com
Seattle, WA (PRWEB) August 27, 2015
August marks the 40th year since the release of Heart's Dreamboat Annie, one of the fastest selling debut albums of all time that lives on in the hearts of millions of fans and is being rediscovered by new generations. With a new live album release on 9/11 and studio album following from the Fisher brothers, it's a perfect time to revisit the old and embrace the new. Roger Fisher - inducted to the Rock And Roll Hall Of Fame in 2013 - was founding guitarist of the rock group Heart, globally known through the sales of more than 30 million albums. Songs featuring Roger's songwriting and iconic guitar riffs have been used in numerous TV commercials, TV shows, Guitar Hero, and in several movies. Other artists have covered his material, including Eminem.
Roger's latest releases include new versions of Heart's Love Alive, Mistral Wind, and Barracuda, plus music videos, the first of many new releases with brother Mike, aka "Magic Man."
"Roger Fisher's pivotal hard rock thrusting intro to "Barracuda" will forever be glorified in rock and roll history." - Ray Shasko Examiner.com
This Autumn brings the release of two new albums from Roger Fisher & The Human Tribe. Rog & The Tribe Live was recorded 29 May, 2015 and showcases the incredible lineup of musicians: Marty Hoyle on keys and vocals; multi-instrumentalist and four-octave-vocalist, Beth Quist; Gordy Ryan on percussion and vocals; Rick Boice on percussion and vocals; Farko Dosumov on bass and vocals; and Rachael Beaver on cello and vocals. Roger Fisher is exceptional as a bandleader, guitarist, vocalist and songwriter. His signature style speaks for itself.
The studio album due for release on the heels of Rog &TheTribeLive is All Told, and features great musicians as well: Michael Shrieve on drums (Santana); Alan White on drums (Yes, John Lennon, George Harrison, Eric Clapton); Mike Derosier on drums (Heart); Steve Fossen on bass guitar (Heart); and other musicians from around the world. http://youtu.be/AU7Jpun_g-w
These new releases are the product of the creative team of Michael and Roger Fisher and their One Vision Project - a musical, photographic, video-graphic and literary masterpiece, forty years in the making. One Vision is a body of works of artistic exploration and growth, starting in the late 1960's and carrying through, uninterrupted, to the present.
For more information visit: http://www.rogerfisher.com
For images, an advance copy of the album for review, and/or to arrange for an interview, please contact Melissa Infurna at Powderfinger Promotions: melissa(at)powderfingerpromo(dot)com.
Powderfinger Promotions–Independent Radio Promotion and Publicity. Since being founded in October 1994, Powderfinger has come to be regarded as a top indie radio promotion and publicity firm with ties across North America.