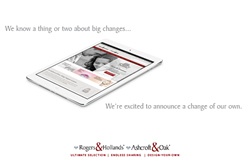 "We believe the new features give our guests easier access to the information they want and an easy means to contact their preferred store & jeweler."
Chicago, IL (PRWEB) September 29, 2014
Rogers Enterprises, Inc. (REI), the largest and oldest family-owned and operated jewelry retailer in the country, recently announced the launch of their new website for both Rogers & Hollands Jewelers and Ashcroft & Oak Jewelers. Launching in October, additional features have been released, including an impressive online catalog of merchandise and collections and an innovative device-responsive web technology technique that greatly improves the online shoppers' experience.
REI also has added a number of new shopper-friendly features to its online storefront, including a new wish-list option that allows registered visitors to create and save or share via their favorite social media platforms. Advanced features to their store locator and store details include a seamless integration with Google Maps and ability for guests to schedule personal showings at any of their 74 Midwest locations using the "request an appointment" feature.
"Our online visitors expect the best in technological sophistication from us, just as they expect the best jewelry selection," stated VP of Marketing, Kathy Kadet. "We have been working on this upgrade for more than a year because we wanted to make sure we got it right. We believe the new features give our guests easier access to the information they want and an easy means to contact their preferred store and jeweler."
REI is currently one of the only major jewelry retailers to introduce this responsive web design technology to its shoppers. First introduced to REI by Orbit Media Studios, online visitors will experience more fluid shopping, no matter how they access the site. Whether they use a computer browser, tablet computer, or smartphone, the web technology adapts with text and images scaled to the viewing device itself, or to a manually re-sized screen.
Responsive web design is the latest innovation in e-commerce design. It allows retailers to develop e-commerce sites that deliver an optimal interactive experience no matter what device is used to access the web.
Rogers Enterprises, Inc.:
Rogers Enterprises, Inc. is a growing fine jewelry chain with 74 stores in nine Midwestern states. Founded in 1910, this family-owned company does business under the names of Rogers & Hollands Jewelers and Ashcroft & Oak Jewelers and has become the largest and oldest family-owned and operated retail jewelry chain in the country.
For more information, visit http://www.rogersandhollands.com or http://www.ashcroftandoak.com