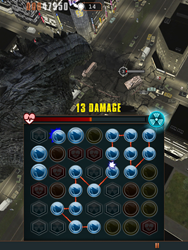 "As the film stomps into theaters, Godzilla - Smash3 captures a monster-sized experience on the small screen in a great new way."
SAN FRANCISCO (PRWEB) March 17, 2014
Rogue Play, an indie publisher of quality mobile mid-core games, today announced its all-new title Godzilla - Smash3 will be available for free on May 16 for iPhone, iPad, iPod touch and Android devices. Godzilla's mobile gaming debut, launching alongside the worldwide theatrical release of the highly anticipated film "Godzilla" from Warner Bros. Pictures and Legendary Pictures, mixes devastating action with tactical puzzle mechanics for a unique, dual-layered experience.
To see Godzilla – Smash3 in action, check out the official trailer here: http://youtu.be/r6DJSWeIRM8
Press members can make demo appointments for the expo floor at the Game Developers Conference (GDC), running March 19-21, by emailing nadams@rogueplay.com.
"As the film stomps into theaters, Godzilla - Smash3 captures a monster-sized experience on the small screen in a great new way," said Thomas Gewecke, Chief Digital Officer and Executive Vice President, Strategy and Business Development, Warner Bros. Entertainment. "We're lucky to work with a group like Rogue Play who understands what makes 'Godzilla' special and can channel that into a great-looking and fun game for our fans."
"The launch of the mobile game is an opportunity for fans to interact with the 'King of the Monsters' in a new way. We are so excited to see how fans will react now that we've put the ability to control Godzilla, including his epic roar, in their hands," said Emily Castel, Legendary's Chief Marketing Officer.
Developed from the ground up by Godzilla gaming veterans at Pipeworks Software, Godzilla – Smash3 combines accessible puzzle mechanics with gorgeous 3D visuals and RPG-style progression that stand out in the genre.
Godzilla – Smash3 complements the iconic character's epic cinematic rebirth, putting the powerful force of the 'King of the Monsters' into gamers' hands like never before. Players take full control of each stomp, slash and bite by matching – or "smashing" - tiles on the lower portion of the screen. Their actions drive a fully 3D Godzilla, who will demolish battalions and sink ships. With enough skill, players can unleash Godzilla's signature Nuclear Breath and combine tiles for devastating combos.
As players pursue Godzilla's foes from the upcoming film, they'll travel the world and face dozens of challenges across land, sea and air. To keep pace with new objectives in each stage, players can upgrade Godzilla to match their play-style and call upon friends in times of need.
Godzilla – Smash3 offers a dynamic experience to be enjoyed concurrently with the film's theatrical release and beyond. Look out for more updates, including monster-sized reveals and new content, about Godzilla – Smash3 in the coming months.
About Rogue Play, Inc.:
Rogue Play, Inc. is an upstart mobile games publisher based in Redwood Shores, Calif. Keeping players in mind from day one, our mantra is to create big-time games with an indie sprit. We work with both original and licensed IP, building a rich portfolio of midcore freemium games for major smartphone and tablet platforms across the world. Above all, our team is relentlessly dedicated to building quality games that our fans can play and share for years to come.
About Godzilla:
Toho Co., Ltd.'s Godzilla franchise contains one of the most widely recognized movie monsters worldwide, including more than 25 films, multiple television programs, video games and book series. Gareth Edwards directs Godzilla from a screenplay by Max Borenstein, story by David Callaham and Max Borenstein, based on the character "Godzilla" owned and created by TOHO CO., LTD. Thomas Tull and Jon Jashni are producing with Mary Parent and Brian Rogers. Patricia Whitcher and Alex Garcia are serving as executive producers, alongside Yoshimitsu Banno and Kenji Okuhira. Warner Bros. Pictures and Legendary Pictures present a Legendary Pictures production, a Gareth Edwards film, Godzilla. Slated to open beginning May 16, 2014, the film is expected to be presented in 3D, 2D and IMAX® in select theatres and will be distributed worldwide by Warner Bros. Pictures, a Warner Bros. Entertainment Company, except in Japan, where it will be distributed by Toho Co., Ltd. Legendary Pictures is a division of Legendary Entertainment.
About Legendary Entertainment:
Legendary Entertainment is a leading media company with film (Legendary Pictures), television and digital (Legendary Television and Digital Media) and comics (Legendary Comics) divisions dedicated to owning, producing and delivering content to mainstream audiences with a targeted focus on the powerful fandom demographic. Through complete or joint ownership, Legendary has built a library of marquee media properties and has established itself as a trusted brand which consistently delivers high-quality, commercial entertainment including some of the world's most popular intellectual property. In aggregate, Legendary Pictures-associated productions have realized grosses of more than $8 billion worldwide at the box office. To learn more visit: http://www.legendary.com
About Pipeworks Software:
Pipeworks Software, the developer of four seminal "Godzilla" games to date, is a world-class Games-as-a-Service studio creating the next generation of live games for console, PC, tablet and mobile players. We make brilliant live games that are cloud-connected, data-rich, and are continuously updated with our COSOMO backend technology for transplatform interconnectivity. For over 15 years, we've created best-selling games in the heart of Oregon with great people, proven technology and a culture of innovation.
________________________________________
Assets:
Download screenshots from Godzilla – Smash3 at this link: http://bit.ly/1fZwGny
________________________________________
Media Contact:
Nate Adams, Rogue Play, Inc.
nadams@rogueplay.com
(612) 812-5410