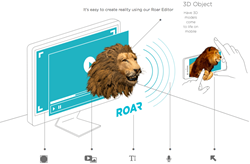 "Content is still king, but consumers desire something fresh, new and engaging. ROAR's immersive augmented reality experience bridges that gap for marketers." - Rohit Mahajan, ROKITT Inc. CTO
Jersey City, NJ (PRWEB) November 17, 2015
ROKITT Inc., a leader in innovation technology, will present ROAR at the CMO Europe Summit to a gathering of senior decision makers, marketing heads and business leaders from across the region. The Summit theme, 'How can brands improve their customer experience throughout the journey and across all touch points' provides the perfect backdrop for ROAR - an enhanced mobile and web based solution that combines Augmented Reality technology, marketing and analytics in one easy-to-use platform. ROAR was recently launched at the Council on Tall Buildings and Urban Habitat (CTBUH) 2015 Conference in New York City where it showcased the future of Jersey City real-estate development.
With the rising adoption of smartphones and tablets, Augmented Reality is becoming more and more accessible for everyday use. ROAR takes the trend to the next level by revolutionizing the way brands connect with their customers. With ROAR, marketers can leverage and distribute dynamic content across several channels to monitor and increase customer engagement. The technology caters to marketing objectives across sectors such as advertising, retail, real estate, auto, education, healthcare, manufacturing, entertainment, technology, design and more.
"We are thrilled to attend the CMO Summit to showcase how ROAR can aid marketing departments with their marketing challenges," said Oksana Sokolovsky, CEO of ROKITT Inc. "ROAR will allow marketers to create new engaging brand interactions through digital and mobile Augmented Reality experiences."
Real estate companies are redesigning their marketing communication to engage buyers and investors with immersive ROAR experiences, while publishers have found use in the technology to creating engaging editorial experiences. ROAR is building a bridge between the physical and digital world, creating a whole new universe of possibilities for marketers and advertisers. Marketers can engage smartphone and tablet users to access quality content such as product videos, interactive brochures, special offers and even customer surveys. Using the ROAR platform, businesses and marketers can create their own end-to-end Augmented Reality experiences, without the need to build expensive one-off solutions.
"Content is still king, but consumers desire something fresh, new and engaging," said Rohit Mahajan, CTO of ROKITT Inc. "ROAR's immersive augmented reality experience bridges that gap for marketers."
About ROAR: With real-time monitoring of customer behavior and interest, ROAR provides marketers with the ability to escalate market reach, optimize campaigns in real-time, reduce the cost of customer acquisition, and deliver a brand experience that creates an immediate competitive advantage. For more information about ROAR visit http://www.rokittar.com.
About ROKITT: ROKITT Inc. was founded in 2014 with a focus on developing and delivering disruptive Mobile and Web Products, Augmented Reality Experiences, Enterprise Data Discovery, Testing & Security Solutions, Consumer Marketing Applications, Entrepreneurial Social Businesses and Innovative Financial Service Technologies (FinTech). The company is powered by a dynamic, agile and passionate team, and fuelled by a culture that combines the spirit of a start up with years of professional maturity. ROKITT's products and solutions impact the everyday lives of consumers as well as global enterprises and governments around the world. For more information about ROKITT visit http://www.rokittech.com.