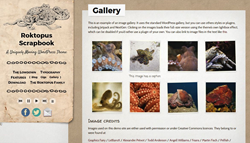 The most recklessly skeuomorphic new WordPress theme of 2016.
London, England (PRWEB) December 01, 2015
Coming to Creative Market in 2016, a new, friendly and informal theme for WordPress, called Roktopus Scrapbook, is looking for web developers, designers and digital DIY makers to beta test the theme, which is promising to be "the most recklessly skeuomorphic new WordPress theme of 2016." Its unique "helicopter" navigation system gives it a distinctively analogue feel and will instantly set any site apart from just about everything else on the web.
All participants who install the beta theme on a test site and fill in a short questionnaire will get a free copy of the finished product when it is been polished up and released commercially in early 2016 with a $75 USD value.
"Most themes take their inspiration from what's out there already, and the result is that more and more websites are starting to look and feel the same. Rather than another incremental step forward, with this theme I wanted to take a very deliberate leap sideways, to create a new style of web design, one that feels more organic, more quirky, more analogue, and perhaps in some sense more real," said Dave Hall, web designer and creator of Roktopus Scrapbook.
With its optional music player and uninterrupted playback as you navigate the site, Roktopus Scrapbook is particularly suited for musicians and bands. However, with six skins set up and ready to go, alternate backgrounds, and room for endless customisation, it can be adapted for just about anything or anyone. It would be used for bars, restaurants, image-conscious local businesses, class projects, weddings, independent shops, pop-ups, artists, writers, illustrators and artisans of all kinds.
DIY users will be able to benefit from a plenty of inbuilt options, which offer loads of possibilities without any coding necessary. Designers also will be able to build on these options by adding their own code with the theme's admin panel. With Roktopus Scrapbook, users can create an original site in less than a day.
To be part of the beta testing phase participants are invited to view the demo, and sign up at scrapbook.roktopus.net/sign-up/ or to send an email to Lisa from Hai Media Group at lisa(at)haimediagroup(dot)com with the subject 'Roktopus Beta Testing'.
More details and all Roktopus Scrapbook features can be seen on scrapbook.roktopus.net and you can follow @RoktopusThemes on Twitter.