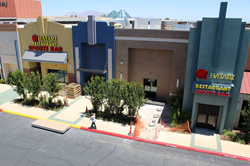 Las Vegas, Nevada (PRWEB) August 01, 2016
Roland Sansone and his company, Sansone Companies, are making great progress in the construction of their new 6,729 square foot restaurant and sports pub, part of the delicious, diverse food being served at The Boulevard, Las Vegas. Hatari Restaurant & Sports Bar is not only a food destination, in keeping with The Boulevard's entertainment theme, the sports pub will be home to other exciting experiences.
Hatari will feature more than a dozen large television screens throughout their restaurant and two outdoor patios, streaming a large array of games and sporting events. "We plan to stream South American and European soccer games to cater to our fùtbol fans," said Roland Sansone, owner of Sansone Companies. "Our TV's will be dedicated to all popular local and international sports games, including basketball, football, UFC, boxing, tennis, baseball and more."
In addition to delicious sports pub food, there will also be a variety of entertainment, such as live bands, stand-up comedy, karaoke, interactive games such as sports trivia, and DJ's. Themed dance parties will take place each night, ranging from line dancing to the salsa, 70s groove and 90s jams.
With over 15 years' experience in the restaurant business, Hatari's executive chef will create a cuisine to include traditional bar items such as wings, burgers, and pizza, as well as a variety of ethnic dishes. The pub will feature a tandoor oven, to cook tandoori chicken, lamb, lobster and varieties of naan. A few other dishes include Queso Fundido topped with carne asada and Indian Samosas. Hatari will also offer .99 cent beers along with a vast menu of fine wines and specialty cocktails.
The Sports Bar and Pub will open in the Fall of 2016. Investing approximately $25 million into The Boulevard's redevelopment marks its first major renovation in more than two decades. The Boulevard continues to receive a new selection of stores, restaurants and entertainment. In addition to the new office space, The Boulevard expects to open their new Sea Quest Aquarium in the third quarter of 2016.
About Roland Sansone
Roland Sansone founded Sansone Development in 1978. Over the last 32 years, Sansone has amassed a commercial real estate portfolio of just under one million square feet. Roland Sansone, president, oversees the operations and strategic growth of the company and its subsidiaries. In 2009, he also oversaw the launch of the company's third-party property management division. Sansone served as a member of the Clark County Planning Commission and currently serves on the County's Committee on Community Priorities, which engages residents in a community-wide discussion about budget priorities. Roland is also actively involved in Candlelighters of Nevada and Opportunity Village. Roland Sansone is also a proud father and grandfather.
http://www.rolandsansone.com
About Sansone Companies
Founded by Roland Sansone, Sansone Companies has developed real estate in the Las Vegas area for the past 35 years. The property offers full-service property, facilities, leasing, and sales consulting and management in both commercial and residential real estate. The company owns and manages several successful retail, medical, and office centers in Las Vegas including Park Place, Sansone Richmar Plaza, and The Boulevard.
http://www.sansonecompanies.com
About The Boulevard
The Boulevard is a 1.2 million square feet regional shopping center anchored by Macy's, JCPenney, John's Incredible Pizza Company, and Sears. Located at Maryland Parkway and Desert Inn in Las Vegas, the property is just under two miles from the Las Vegas Strip and close to Sunrise Medical Center, The Las Vegas Country Club, and University of Nevada, Las Vegas. The Boulevard was built in 1968 and was expanded and renovated in 1992. In 2013, the property was purchased by Sansone Companies of Henderson, NV, who remodeled the property in 2015, dramatically improving its appeal. The property's upward momentum has been propelled by the opening of John's Incredible Pizza, as the property's fourth anchor in December 2015. Sansone Companies intends to further develop the property to include some mixed-use components such as general office space, medical and dental offices, as well as child care and other essential services alongside new entertainment and restaurant venues. http://www.boulevardlv.com