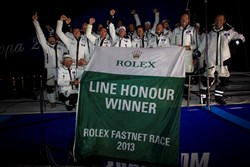 This brilliant manoeuvre allowed the European flagged yacht, a true sailing Formula 1, to pick up speed when rounding Fastnet Rock and increase the distance to Mike Slade's FARR 100.
Plymouth UK (PRWEB) August 14, 2013
Once more the 611-nautical mile long race lived up to its reputation of being one of the world's most challenging races. Fortunately, this time the race did not prove as challenging because of stormy winds, capsizes and broken masts, but rather as it was accompanied by light winds during the entire course, where every single mistake could be crucial in terms of losing the pace. 18-member Esimit Sailing Team, skippered by three time Olympic gold medalist and two time America's Cup winner Jochen Schümann, was well aware of those conditions. Therefore the yacht was perfectly adjusted for the offshore challenge during its Cowes Week winning performances, taking place just days before the start at the Royal Yacht Squadron in Cowes.
Igor Simčič's maxi yacht, sponsored by Gazprom, sailed to its limits to stay in the front of the excellent British yacht ICAP Leopard. Several tacks were performed on the way to the Irish Fastnet Rock, where Esimit Sailing Team decided to take a westerly turn, while ICAP Leopard stayed on the east side. These brilliant maneuvers allowed the European flagged yacht to gain speed when rounding the Fastnet Rock and increase the distance to Mike Slade's FARR 100. When sailing downwind on their way to Plymouth, the racing conditions however favored the British yacht. Therefore, the Esimit Sailing Team had to work even harder to take the very well deserved trophy, which is one of the most renowned in the sailing world.
"Taking line honors at the Rolex Fastnet Race was always one of my biggest wishes as it is one of the greatest challenges among all offshore races. I am happy that my dream came true. This would not be possible without dedication of the entire crew and devotion of our skipper Jochen Schümann. Engineering team did an amazing job in preparing the yacht in the best way possible for the demanding conditions we faced during the entire course. I would also like to thank our main sponsor Gazprom, supporters and endorsers, who share our vision of uniting Europeans. At the Esimit Europa project we strive for excellence, close cooperation and mutual trust. Only by having a strong vision we can succeed. We have just proved it with this fantastic achievement," stated Igor Simčič, owner of the Esimit Europa 2 yacht, who joined his team for the race.
Contact:
Gorazd Mauri
+39 366 675 90 92
gorazd(dot)mauri(at)esimit(dot)com
http://www.esimit.com