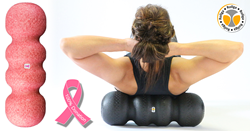 After treatments, massage really helped to loosen things up and get things moving again. I wanted to keep my normal routine. Rollga keeps people healthy." Deb, Survivor
Saint Cloud, MN (PRWEB) September 01, 2016
Rollga aims to make a difference, as Breast Cancer currently affects about one in eight women in the United States. However, treatments continue to advance and improve, because of the generosity of many organizations that are driving awareness toward this horrible disease.
Patients seek ways to find relief during and after treatments.
According to an article written by the *Pacific College of Oriental Medicine, "A study published in the Journal of Psychosomatic Research, the Touch Research Institute found that massage therapy reduced anxiety and depression. It also improved immune function, including increased NK cell numbers in breast cancer patients. Additionally, breast cancer patients have improved immune functions following massage therapy."
The Rollga is the perfect compliment.
Not everyone can afford to hire a personal massage therapist throughout their treatment. These patients are turning to alternative methods of self massage. Rollga fits that category. "This contoured foam roller has a unique patented design that cradles the body for quick results with more comfort and ease." Says Tim Schmidt, Co-Founder, Rollga. "Rollga bypasses the bone structure, applies pressure at a 45-degree angle, and allows for muscle displacement to ensure the muscle fibers are guided and protected from the damaging shifts and pressure." By providing a more comfortable experience cancer patients are able to use the Rollga foam roller as an affordable alternative to melt away anxiety and depression. "Though Rollga has captured the attention of cancer patients lately, this design was originally developed for anyone with a desire to move better," concludes Schmidt.
Rollga gives back all proceeds from the Pink Ribbon Rollga sales.
"At Rollga, it is not about us, we created Rollga as a way to give back to others in need," expresses Taggart Downare, Co-Founder and Creator, Rollga. Rollga has made a commitment to donate 100% of proceeds to the American Cancer Society's Making Strides Program and the American Breast Cancer Foundation. The Pink Ribbon Rollga Foam Roller is now available. "Each organization serves a vital role in fighting and preventing cancer," continued Downare.
American Cancer Society's – Making Strides
Making Strides is a local breast cancer organization that celebrates survivorship. Their goal is to help raise funds for groundbreaking breast cancer research, life-saving education, and critical patient services by walking in the American Cancer Society Making Strides Against Breast Cancer of Making Strides of Central Minnesota.
American Breast Cancer Foundation
The American Breast Cancer Foundation's (ABCF) mission is to provide financial assistance for breast cancer screenings and diagnostic tests for uninsured and underserved individuals, regardless of age or gender. Their breast cancer fundraiser supports women nationally.
*Pacific College - Massage Therapy Breast Cancer Patients
To learn more about Rollga, visit http://www.Rollga.com.
About Rollga:
Founded in 2015, Rollga is the best foam roller for reversing pain caused from shin splints, stabilizing your hips, aligning your back, and increasing range of motion in your shoulders. Be it a leg roller or shin splint foam roller, the depth of its positive effects greatly depends on the design. The Rollga foam roller is ideal for recovery of muscle tissue after a stressed workout. This body-shaped foam roller is designed and contoured to fit the body and reach trigger points that are difficult to reach with an ordinary foam roller.