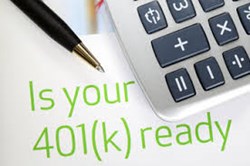 When it comes to using the ROBS solution to buy a business, it is crucial that the 401(k) plan be properly administered and satisfy all IRS and ERISA rules
New York, NY (PRWEB) February 07, 2014
IRA Financial Group, the leading provider of self-directed retirement solutions announces the introduction of the specialized third-party recordkeeping services for all Rollover Business Start-Up Strategy ("ROBS") clients. The ROBS strategy is an IRS approved solution that allows one to use their retirement funds to invest in a business that they will be personally involved in. The transaction involves the establishment of a "C" corporation and the adoption of a 401(k) qualified retirement plan. The individual retirement holder would then roll his or her retirement funds into the new 401(k) plan without tax or penalty. The 401(k) plan would then purchase stock in the newly established "C" Corporation, which is called "Qualifying Employer" securities. The Corporation would then have the necessary funds to use for the purchase of the business assets. "When it comes to using the ROBS solution to buy a business, it is crucial that the 401(k) plan be properly administered and satisfy all IRS and ERISA rules, " stated Joel Baum, a CPA with the IRA Financial Group.
According to Mr. Baum, IRA Financial Group's ROBS third-party recordkeeping services provides an affordable, comprehensive retirement program backed by knowledgeable 401(k) professionals who ensures a ROBS 401(k) plan runs smoothly. "Our experienced retirement services professionals will manage many of the daily operations of your plan, relieving much of the stress of sponsoring a plan," stated Susan Glass, a retirement tax professional with the IRA Financial Group.
The IRA Financial Group's in-house retirement tax professionals spent a number of years carefully studying IRS guidance in order to design an IRS and ERISA compliant structure for using retirement funds to acquire or invest in a business tax-free. "Unlike many companies who have been working with the ROBS structure for many years, prior to receiving guidance from the IRS, the IRA Financial Group has patiently waited for clear IRS guidance before working with a structure that would be fully compliant with IRS and ERISA rules and procedures, " stated Ms. Glass.
According to Mr. Baum, because the IRS has stressed the importance of compliance when using retirement funds to purchase a business, it is crucial to work with a company that is operated by a team of in-house tax and ERISA professionals who have worked at some of the largest law firms in the United States, including White & Case LLP and Dewey & LeBeouf LLP to ensure a fully compliant ROBS structure.
The IRA Financial Group was founded by a group of top law firm tax and ERISA lawyers who have worked at some of the largest law firms in the United States, such as White & Case LLP, Dewey & LeBoeuf LLP, and Thelen LLP.
IRA Financial Group is the market's leading provider and administrator of self-directed retirement solutions. IRA Financial Group has helped thousands of clients take back control over their retirement funds while gaining the ability to invest in almost any type of investment, including real estate without custodian consent.
To learn more about the IRA Financial Group please visit our website at http://www.irafinancialgroup.com or call 800-472-0646.