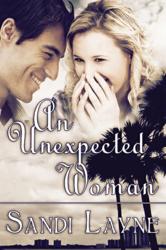 Love, faith, family, and friendship are beautifully intertwined throughout this refreshingly light and fun summer romance.
Baltimore, Maryland (PRWEB) July 10, 2013
At a time when the marketplace is flooded with sexy and often explicit romance novels, Sandi Layne reminds readers that romance doesn't have to be smutty to be fun. An Unexpected Woman is a Christian Romance novel many will relate to. In fact, Ms. Layne's heartfelt romance was recently chosen as a "must read" by USA Today.
"It's about two people who love God and fall in love with one another. They're real people with faults and quirks who might not fit into the conventional 'romance' mold. And that can be a good thing," says Ms. Layne. "Mark and Shelley's story is the kind of tale each of us might like to experience ourselves rather than merely read about."
Mark Countryman, an Associate Pastor who recently moved to North Fort Myers, Florida, finds himself incredibly lonely and contemplating God's plans for him. He's beginning to wonder if God has someone out there for him, and while he seeks clarity, he stumbles upon local furniture repairwoman, Shelley Roberts. Despite the struggles of her past, Shelley has a sunny and cheerful disposition that draws Mark in. Slowly, the two become friends, but the threat of a hurricane nearing the Florida Peninsula brings about questions of faith and trust that lead them to examine their newfound fondness of each other. Is Shelley the one that Mark has been praying for?
Love, faith, family, and friendship are beautifully intertwined throughout this refreshingly light and fun summer romance. An Unexpected Woman by Sandi Layne will be available on Amazon, iTunes, Kobo, and B&N.com starting July 11, 2013.
About the author:
Having been a voracious reader all her life, Sandi never expected to want to write until the idea was presented in a backhanded manner. Once the notion occurred to her, though, she had to dive in the deep end (as is her wont) and began by writing historical fiction. She has since written more than twenty novels—most of which will never see the light of day.
With degrees in English and Ministry, Sandi has spent years as an educator, studied theology, worked in escrow and experienced success in sundry other careers. Research is her passion. In fact, she is fascinated with contemporary research, and has won an award for Celtic Fiction. In addition, she has self-published several Inspirational Romance novels.
Married for twenty years to a man tolerant enough to let her go giddy when she discovers new words in Old Norse, she also has two sons who find her amusing and enjoy listening to her read aloud—especially when she uses funny voices. A woman of deep faith, she still finds a great deal to laugh at in the small moments of the everyday and hopes that she can help others find these moments, too.
Connect with Sandi Layne
Website: http://sandyquill.com/
Facebook: https://www.facebook.com/pages/Sandi-Layne-Author/115692828503745
Twitter: @sandyquill
TWCS: http://ph.thewriterscoffeeshop.com/authors/detail/51
About the Publisher:
The Writer's Coffee Shop Publishing House is an up-and-coming independent publisher based in New South Wales, Australia. They recently gained a great deal of attention with Fifty Shades of Grey, the international literary sensation released in June 2011 by TWCS and is now represented by Random House.
Launched in October 2010 with the vision of working alongside talented authors while providing quality e-books to the growing marketplace, TWCS publishes a wide range of fiction titles and is sure to have something for any appetite.
Connect with The Writer's Coffee Shop
Website: http://ph.thewriterscoffeeshop.com/
Facebook: http://www.facebook.com/pages/TWCS-Publishing-House/119328354791583
Twitter: @twcs_pubhouse