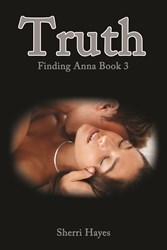 Truth is...exceptional, enthralling, thought-provoking, soul gripping, and shockingly intense.
Columbus, Ohio (PRWEB) July 24, 2013
In the Finding Anna series debut, Slave, Sherri Hayes took on two controversial topics – BDSM and human trafficking. She tackled them headfirst and surprised readers everywhere with its compelling, nuanced plot, emotionally complex characters, and eye-opening look at the humanity, tenderness, and trust that underpins relationships that incorporate BDSM.
On July 25, 2013, the third installment of the blazingly popular Finding Anna series, Truth, arrives via The Writer's Coffee Shop Publishing House, the same publisher that brought the international sensation Fifty Shades of Grey to market.
Where Slave saw the series' protagonist, Stephan Coleman, reconciling his feelings about the purchase of Brianna and the dominant-submissive relationship upon which they embark, and Need brought a complexity to the series that went beyond the typical whips and chains, Truth, in Hayes' words, "is the sexiest we've seen from Stephan and Brianna yet."
An unconventional addition to the erotic romance market, Truth isn't all about the sex, although have no fear, there's plenty of that to be sure. Brianna must now face her past head-on and deal with the ugly reality of what happened to her when a man she was supposed to trust implicitly sold her to sadistic and cruel Ian as a sex slave. Will Stephan's love be enough to see her through her newest challenge, or will the fragile trust they've built come crumbling down around them as the truth makes itself known? Can the truth really set her free, or will it be enough to bring her to her knees
Stephan and Brianna face turbulence as they work toward finding what they need in each other, but if they thought navigating their tenuous relationship would be hard, the realities and judgments of the outside world just may prove impossible.
An eye-opening and hotly anticipated read that's already being heralded by advance reviewers as "exceptional, enthralling, thought-provoking, soul gripping, and shockingly intense," Truth explores:
Human trafficking, the existence of human slavery across all segments of society
The true nature of Dominant-submissive and other alternative relationships
The process of healing from trauma through unconventional means
The BDSM lifestyle and the misconceptions that surround it
Love in the face of significant opposition and judgment
About the Author:
Sherri Hayes is the author of the Finding Anna series [The Writer's Coffee Shop Publishing House], a four part erotic romance that is captivating readers worldwide.
Truth will be available for purchase in both paperback and e-book formats on July 25, 2013. It is currently available for pre-order via The Writer's Coffee Shop Publishing House.
Find Sherri Hayes on The Writer's Coffee Shop Publishing House and her website.
About the Publisher:
The Writer's Coffee Shop Publishing (TWCS) House is an up and coming independent publisher based in New South Wales, Australia. They recently gained a great deal of attention with Fifty Shades of Grey, the international literary sensation released in June 2011 by TWCS and is now represented by Random House.
Launched in October 2010 with the vision of working alongside talented authors while providing quality e-books to the growing marketplace, TWCS publishes a wide range of fiction titles and is sure to have something for any appetite.
Website: http://ph.thewriterscoffeeshop.com/